Let's be honest. Finding quality salespeople has never been easy, and sifting a pile of resumes (the average position receives 118 applications), can be onerous. But 2022 has its own unique sales recruiting challenges that must be addressed.
In this post, I'll break them down one-by-one based on recent data and provide actionable strategies on how to overcome them.
An Overview of the Top Sales Recruiting Challenges
In a joint study between LinkedIn and Jobvite, experts pinpointed a list of specific sales recruiting challenges based on feedback they received from recruiters. Here's what their findings looked like.

Now let's unpack the data from top to bottom.
1. New Hires Lacking Soft Skills
Above all else, a lack of soft skills among new hires is the number one challenge sales recruiters face in 2022 at 89%. This is something I covered in detail in my last post where I mentioned that hard skills are fairly easy to identify and quantify. But this isn't usually the case with soft skills. In particular, soft skills like communication, collaboration, empathy, and rapport-building have been historically difficult to gauge.
Up until recently, most sales recruiters have simply relied on basic behavioral assessments and reading body language to analyze soft skills. But, unfortunately, that's not always sufficient. Some ways to address this issue, however, are to first identify a handful of vital soft skills and make them your key areas of focus when recruiting.
There are also a few pieces of technology you can use to objectively analyze candidates. One example is eSkill which is ideal for assessing emotional intelligence such as communication and collaboration. Another is a sales recruiting platform like HireDNA which analyzes "sales DNA competencies" including emotional control, supportive beliefs, and the ability to handle rejection.
From there, HireDNA will provide you with a list of qualified sales candidates that are interview-ready.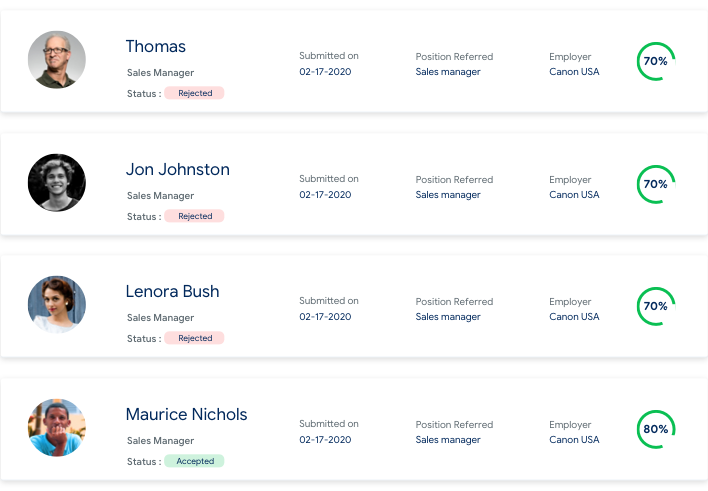 2. Hiring Salespeople Who Didn't First Appear to Fit
The second biggest challenge involves selecting candidates that didn't initially seem to be assets to a company. According to the study, "77% of recruiters go back and hire candidates who at first didn't appear to be a fit." The issue is coming up with an effective way of pinpointing individuals who slipped through the cracks at first and incentivizing them to come on board.
As I mentioned in another article, there's a small window of just 10 days on average in which you have to hire elite talent. After that, most have already found another position. So to be fully transparent, there will be many cases where the ship has already sailed and it's simply too late.
That said, reaching out to quality candidates as soon as you realize their potential can sometimes lead to a hire. I also suggest focusing on the following incentives, if possible, as data shows they are the main things that attract candidates to new organizations.
3. Candidates Changing Their Minds
Here's one of the sales recruiting challenges that can really drive companies crazy. You find A+ talent and get something lined up only to have a candidate change their mind at the last minute. And it's an issue that happens more than you may think with 75% of sales recruiters saying they've experienced it at some point.
While there's no magic bullet for ensuring this never happens to you, there are a few ways to reduce the likelihood of candidates changing their minds. First, be sure you have adequate incentives in place — ones that specifically zero in on what attracts candidates to a company (see the graphic above I just mentioned). Next, provide candidates with a clear outline of what the onboarding process looks like and make it as streamlined as possible. Third, maintain close communication with candidates from the start, making sure to "read their digital body language" so you can address any potential problems before they escalate.
Besides that, it's helpful to have at least one backup in place just in case someone drops out unexpectedly.
4. Finding Quality Entry-Level Sales Reps
Finally, there's the issue of attracting entry-level candidates, with 41% of companies saying these are the hardest positions to fill. Two main reasons why it's notoriously difficult are because 1) entry-level positions don't usually pay as much as more experienced positions and 2) candidates often lack the ideal skill set and experience a recruiter is looking for.
So what do you do about it?
When it comes to the pay, I suggest thoroughly analyzing what your competitors are offering for similar positions and either match or exceed it, if possible. You can find more information on current salesperson salaries here.
If that's just not possible, here are some potential workarounds:
Offer plenty of advancement opportunities giving entry-level salespeople the chance to progress
Create an amazing culture, and emphasize it in your recruiting
Offer flexible work schedules and remote working opportunities as this tends to be effective for recruiting younger reps
As for addressing the issue of limited skill set, it's all about finding the diamonds in the rough. This, of course, is easier said than done as many candidates will have minimal experience, but there are tools that can help. HireDNA, for instance, can come in handy here because it can be used to objectively screen candidates and predict their likelihood of success. In turn, it's much easier to identify candidates that will thrive in your specific sales environment.
Overcoming Today's Unique Sales Recruiting Challenges
To recap, here are the top challenges for sales recruiters in 2022:
Candidates lacking soft skills – 89%
Hiring candidates who didn't first appear to fit – 77%
Candidates changing their minds – 75%
Filling entry-level positions – 41%
While these can be tricky to navigate, each problem has a corresponding solution, and implementing the right one should help your company thrive in today's recruiting climate. To learn more about how HireDNA can help you select elite talent in your industry, get in touch with us today.