Here are a few sobering stats. 74% of salespeople fail. 20% of salespeople do okay but could use improvement. And only a tiny fraction of salespeople are considered "elite" at just 6%.
This means that taking a conventional approach to sales hiring where you choose candidates based merely on their resume, previous positions, education, etc. is likely to end up with mediocre results at best. The numbers just aren't in your favor.
That's why a growing number of sales leaders are using sales assessment tools that implement science-based techniques to objectively determine who's the best fit for a role and who possesses the right hard skills, as well as the right soft skills.
Why Should You Use Top Sales Assessment Tools?
A lot of candidates can look great on paper. Maybe they've got a robust resume jam-packed with impressive credentials, a stellar track record, and have been employed by industry standouts.
That's great, but can they actually sell?
More specifically, can they sell effectively in your unique sales environment? And do they have the specific personality traits that it takes to succeed with your company?
These aren't questions that can't necessarily be answered by looking at a resume. That's where sales assessment tools come in.
Designed to evaluate and measure the performance, skills, and capabilities of prospective salespeople, these tools offer several distinct benefits.
They allow you to objectively analyze candidates using quantifiable data
You can easily identify each candidate's strengths and weaknesses
They offer scores for an easy comparison of different sales candidates
You can avoid bias that naturally creeps in
They can be customized for your specific sales environment
They streamline the sales hiring process as a whole, freeing up more time for you to focus on core business activities (this is especially important for smaller businesses that lack a dedicated hiring team)
And with many of the top sales assessment tools boasting remarkable numbers in terms of the results they help achieve, it's easy to see why this technology has become so popular in recent years.
With that said, here are my top sales assessment tools, including core features, benefits, and more.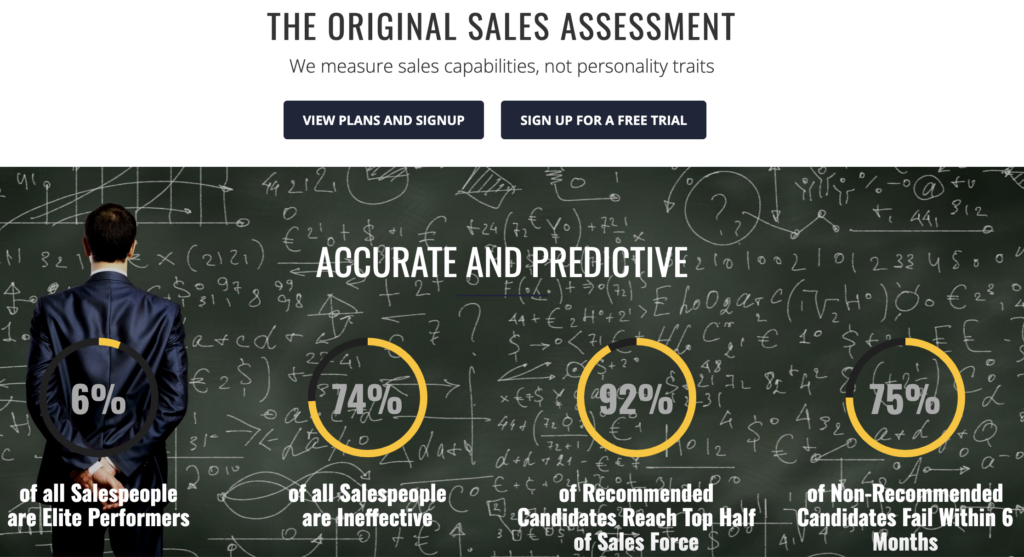 One of the biggest selling points of The Sales Candidate Assessment is the massive volume of data behind it. As of late 2023, it's been used by over 37,000 companies to make over 111,000 hires across 200 different industries.

For this reason, it's been one of the most consistently reliable sales assessment tools and can be used by a wide variety of companies in multiple industries. As I mentioned earlier, a big reason for the success of these assessments is that they can be customized for each unique selling environment. And that's certainly the case with The OMG Sales Candidate Assessment.
"Your customized Role Specification allows you to specify the unique requirements of your position. Candidates are then assessed against your criteria to create a recommendation custom-tailored to your needs."
In terms of insights it provides, you can assess:
A candidate's will to sell
Their "sales DNA," meaning whether or not they have the traits to produce positive outcomes
Their core competencies, such as qualifying and closing leads
How trainable they are
Where they rank in comparison to other candidates (their sales percentile)
This combined with the simplicity and intuitiveness of using The OMG Sales Candidate Assessment, and it's a tool that many sales leaders can greatly benefit from.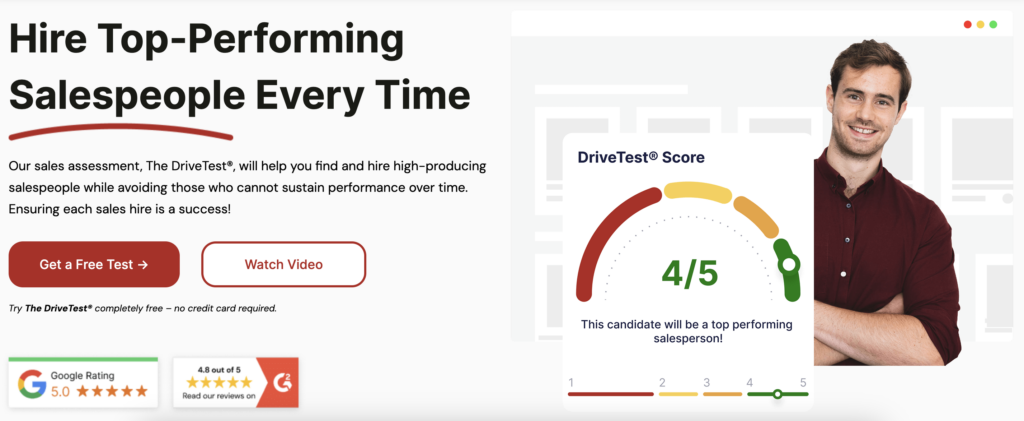 This tool also has a lot of data behind it, with 150,000 sales assessments being administered to date. One of the main reasons why we like The DriveTest is because it's so simple and straightforward.
First, you give the test to potential sales candidates, where The DriveTest analyzes essential factors like critical personality traits needed to thrive in sales and non-teachable traits, including achievement, competitiveness, and optimism.
The test also includes 42 forced-choice questions, where "candidates must choose between three options that sound equally positive, making this sales personality test very difficult to fake."
Then, The DriveTest will provide you with a color-coded scale that measures each trait, while also quantifying the score from 1 to 5. This simple rating allows you to instantly assess each candidate and see how they stack up against other applicants.
From there, it's just a matter of using this data to decide who's the best fit for your sales team. Note that candidates who receive a score of 4 to 5 in "the green range" are nearly twice as likely to become sales leaders.

The first thing to note about The Caliper Profile is that it not only helps you hire elite salespeople, but it also helps you manage them post-hire so they reach their full potential.
In their own words, " The Caliper Profile is a unique talent solution in that you can use your assessment data even after the hire is made. By using your new hire's profile data, you are able to explore areas of opportunity and growth to develop them further."
And that's important because continued salesperson development is crucial to staying on top of your industry and winning against competitors.
I also like the thoroughness of this sales assessment tool, as it analyzes a staggering 280 behaviors, 56 competencies, and 21 behavioral traits.
So as you can see, it's highly comprehensive and capable of providing a 360-view of sales candidates.
One area The Caliper Profile really focuses on is mental toughness, where it looks at:
Level-headedness
Stress tolerance
Resiliency
Energy/persistence
Self-structure
As you probably know, being mentally tough is an incredibly value trait to have in salespeople. Being able to deal with consistent rejection and the overall ups and downs of the position is essential to long-term success. The Caliper Profile gives you a crystal clear view of how each candidate fairs in this area.
Besides that, it can uncover a candidate's most natural behaviors, along with behaviors to investigate.
Here's an example.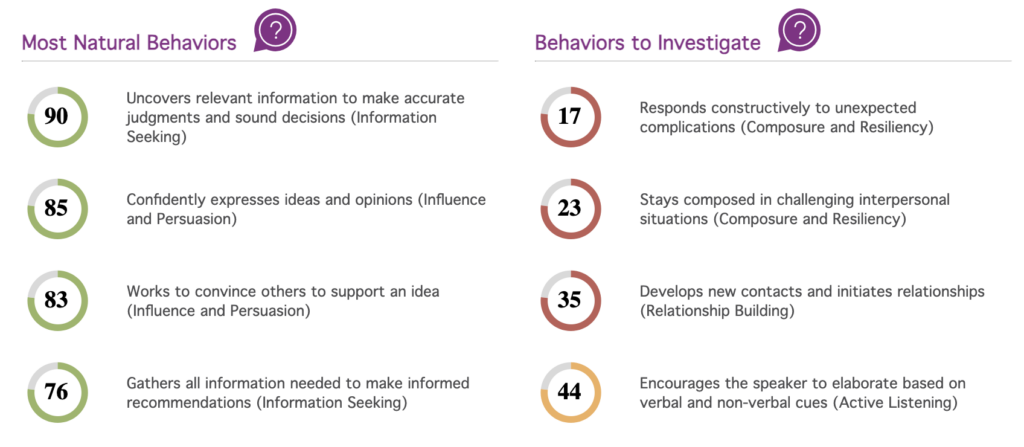 Put this all together, and The Caliper Profile is definitely a sales assessment to consider.

Next is The Predictive Talent Assessment, which, right off the bat, has some great numbers in terms of the impact it can have. According to Chally, hiring managers who use it see:
46% faster time to hire
43% lower cost per hire
Salespeople that are 21% more likely to reach their sales goals
Some particular things to note about this tool is that it analyzes 138 sales competencies, with that number still growing. It's highly customizable, allowing you to find elite salespeople across a wide variety of industries and specific sales roles. There's a "large database spanning five decades with normative samples of over 600,000 adults with broad representation of race, ethnicity, age, gender, national origin, and global geography."
Also, The Predictive Talent Assessment offers clear, simple reporting along with recommendations on how to properly utilize the information to make smart sales hiring decisions.
There are a few different types of assessments you can perform with this tool, including the Best Fit Sales report, which indicates which candidate is best suited for the position you're hiring for, and the Motivations and Habits Report, which lets you know how a candidate approaches sales situations.
And my personal favorite is the Individual Strengths Report, which breaks down core competencies and shows what percentile a candidate is when compared to other respondents.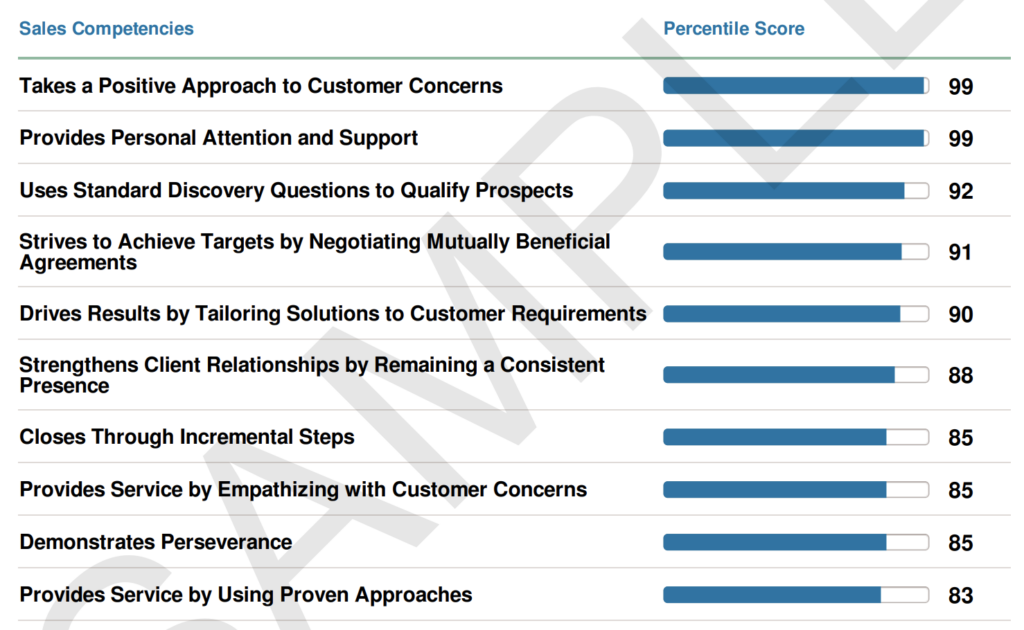 Although this sales assessment tool isn't quite as thorough as some of the others on this list like The Original Sales Assessment, it's still more than sufficient for many hiring managers.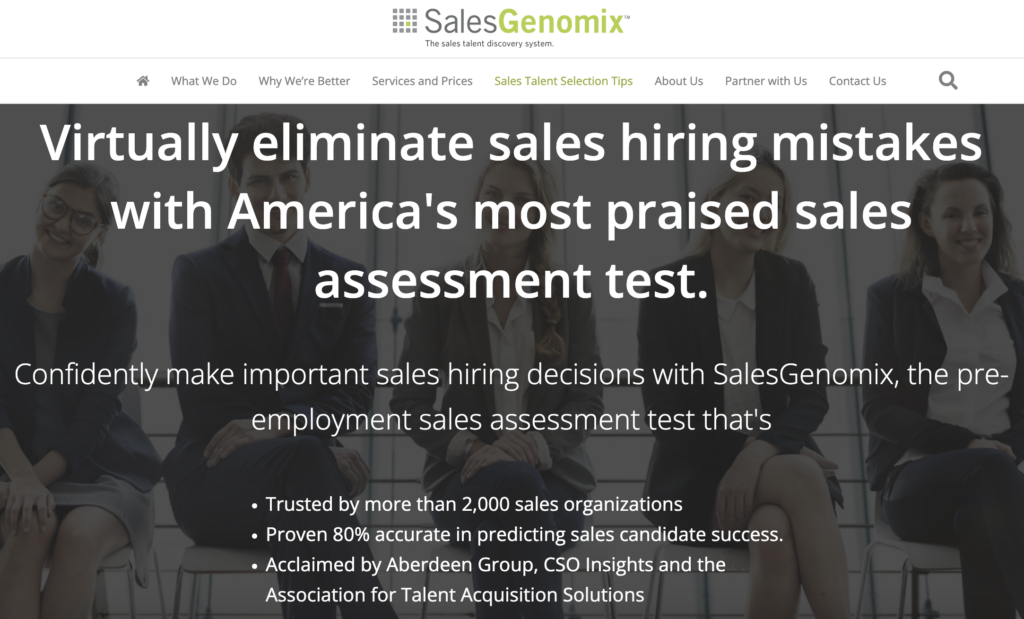 Perhaps the most impressive thing about SalesGenomix is that it's an assessment tool that's built around 20 years of field research, involving half a million sales professionals. As I've mentioned before, the more data that goes into analyzing salespeople, the more reliably you can predict their likelihood of succeeding in your unique sales environment.
So that's one of the main reasons why SalesGenomix made the list.
Another benefit is that it looks at 140 different sales attributes and can assess a candidate's qualifications across 14 sales roles, including sales management. Whether you need to hire someone for an entry-level sales position or someone for a senior leadership position, you can do so confidently with this tool.
Besides that, SalesGenomix is great if you have a candidate that has performed well in one role but they're applying for a different one. If you've been reading the HireDNA blog for a while, you may know that I'm a big proponent of hiring sales professionals who are great at selling but don't necessarily have direct experience with the specific role at hand.
I find that true skills and talent usually transfer, and most elite salespeople can quickly learn a new role. With SalesGenomix, you can "rate the success potential of a given candidate across a dozen or so sales roles. So you can confidently make hiring decisions even when a promising candidate has limited experience at the role you are trying to fill."
Besides that, this assessment has the ability to test your existing sales team when you want to promote from within. This comes in handy for succession planning or if you simply don't want to look externally every time you need to make a hire.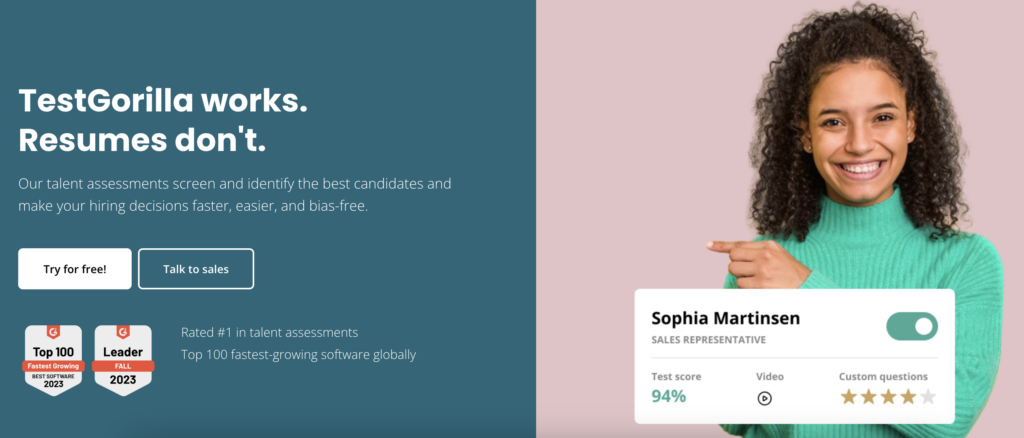 While the final tool on this list isn't specifically geared toward sales hiring, as it works for several types of careers, you can most definitely use it for assessing sales candidates. And the overall simplicity and effectiveness of the platform combined with how much time it can save make it a great choice, in my opinion.
Some of TestGorilla's main selling points besides its simplicity is its ability to drastically lower unconscious bias and offer an amazing customer experience — both of which are vital for creating a winning company.
To use TestGorilla, you first choose an assessment name and job role.
Then you choose the best tests from the company's large archive of tests and add custom questions if you want.
From there, you invite candidates to participate and analyze the results.
An added plus is that if you ever want to hire for other positions outside of sales, such as a bookkeeper or developer, everything is ready to go with TestGorilla.
Building a Winning Team with Top Sales Assessment Tools
In today's hyper-competitive business world, "relying on a hunch" with sales hiring just won't cut it. To give yourself the best chance of success, it's critical to rely on science and data to accurately predict how a candidate will perform in your unique sales environment.
Each of these sales assessment tools offers different features, but all bring something valuable to the table. So if you've been considering implementing this type of software, these are good places to start. The OMG Sales Candidate Assessment in particular is one of the best pound-for-pound, with 92% of recommended candidates reaching the top half of the sales force.