A well-crafted employee value proposition, or EVP, can have a huge impact on sales recruiting and retention. Recent data found it can improve new hire commitment by as much as 29% and lower turnover by 69%. Further, it increases the chances of a salesperson becoming a brand advocate where they help recruit other A+ candidates by up to 47%.
In this post, I'll explain everything you need to know in order to build a rock-solid employee value proposition so you can attract and retain top-tier talent in your industry.
What Exactly is an Employee Value Proposition?
Definitions vary somewhat depending on who you ask. Traditionally, it's been thought of as the benefits, rewards, and perks an employee gets in return for offering their skills, experience, and expertise to a company. However, in the modern context, it can extend into other areas, such as the recognition, support, culture, and overall well-being an employer offers to salespeople.
I think this pyramid by Mercer Thrive Research illustrates it perfectly.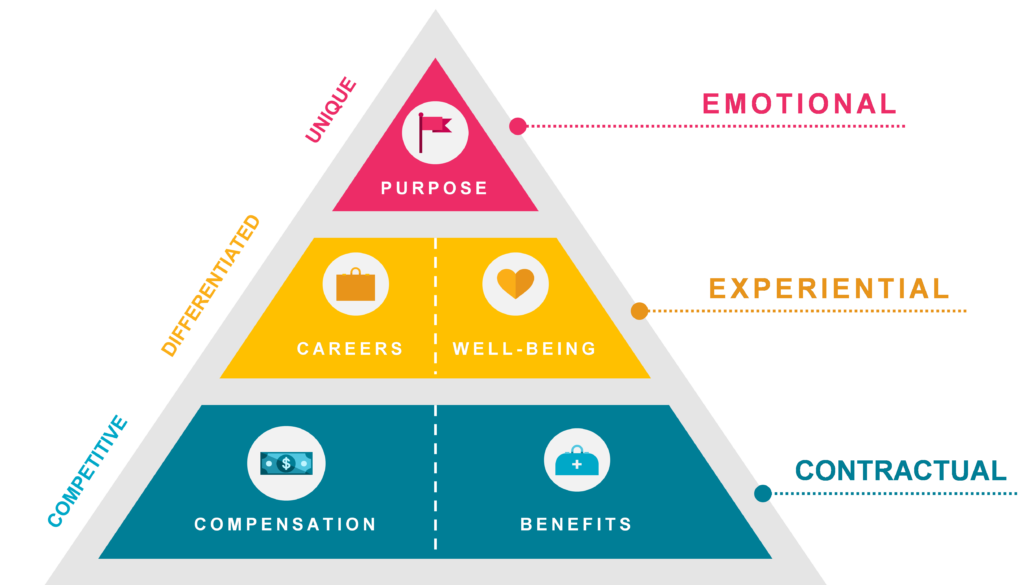 Regardless of how you define it, the core purpose of an employee value proposition is to let sales candidates know what's in it for them. And it's designed to maximize their potential and encourage them to operate at their peak.
EVP Examples
In terms of conventional benefits, here's an example from Gingr, a company that sells "user-friendly dog daycare, kennel, and grooming software."

As for other areas such as support, culture, and so on, here's an example from data platform Splunk.

The Step-By-Step Process for Creating an EVP
Now that we know exactly what an employee value proposition is and why it's important, here's a simple formula you can use to build your own EVP from scratch.
Tally Up Your Selling Points
First, I suggest "doing inventory" of what you have to offer that would be of interest to potential sales candidates. Start with the fundamental quantifiable selling points like competitive salary, health insurance, PTO, holiday pay, and so on. Then, move on to the less quantifiable benefits, such as career advancement opportunities, an amazing culture, and the chance to work with other innovative professionals.
This will serve as a rough draft that you can refine later on, which brings me to my next point.
Get Your Existing Employees' Input
A big part of nailing your EVP is putting yourself in a salesperson's shoes. Even though most recruiters have a decent understanding of what's appealing to candidates, even a small rift can marginalize your efforts. That's why I suggest getting input straight from the horse's mouth — your existing employees.
Here are some potential questions to ask to gain insights:
Why did you choose our company?
What's your favorite part of working here?
What does our company offer over others you've worked for in the past that stands out to you?
What are your favorite benefits?
What are some benefits we don't currently offer that you'd like to have?
What are the best aspects of our culture?
Do you feel there's a genuine opportunity for growth?
What type of support could we offer to improve your working experience?
Side note: Besides helping with the construction of your EVP, these insights can help you improve operations in general and address small issues before they escalate.
Collect Data from Exit Interviews
Another way to get valuable information is from exit interviews where you find out what prompted salespeople to seek different positions. Asking a few basic questions such as the following should help you get a feel:
What did you like most about your job?
What did you like least?
What motivated you to find another position?
What does our company do well in terms of providing value for employees?
What could we improve on?
Synthesize Your Findings
Once you've tallied up your selling points, gotten feedback from current employees, and added data from exit interviews, you should have everything you need to go on. At this point, you'll want to synthesize your findings to pinpoint A) what you're already doing well and B) potential areas for improvement. From there, it's just a matter of using this information to create a realistic employee value proposition.
You may, for example, want to emphasize that you offer higher than average salary, outstanding health insurance, remote work opportunities, leadership development, and so on. For inspiration, I recommend checking out HubSpot's Sales Careers page. It's an amazing resource that provides a detailed overview of HubSpot's EVP and addresses everything potential candidates would want to know in one convenient area.
There's the "How we work" section, which explains how HubSpot sets its salespeople up for success.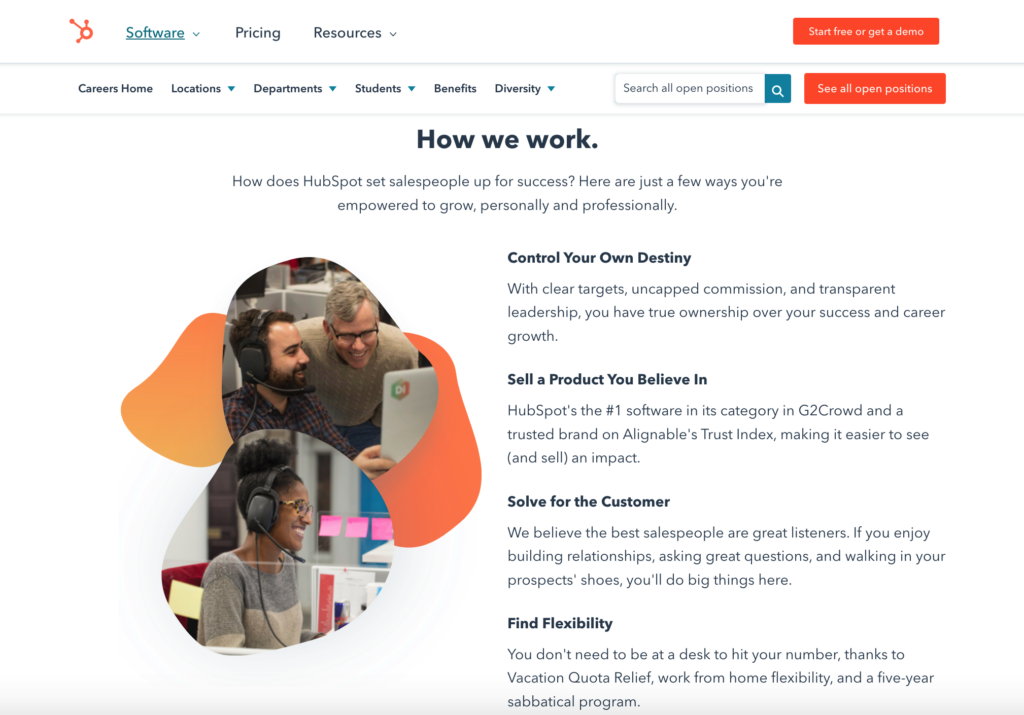 There's also a "benefits" section that highlights the exhaustive perks of working for HubSpot.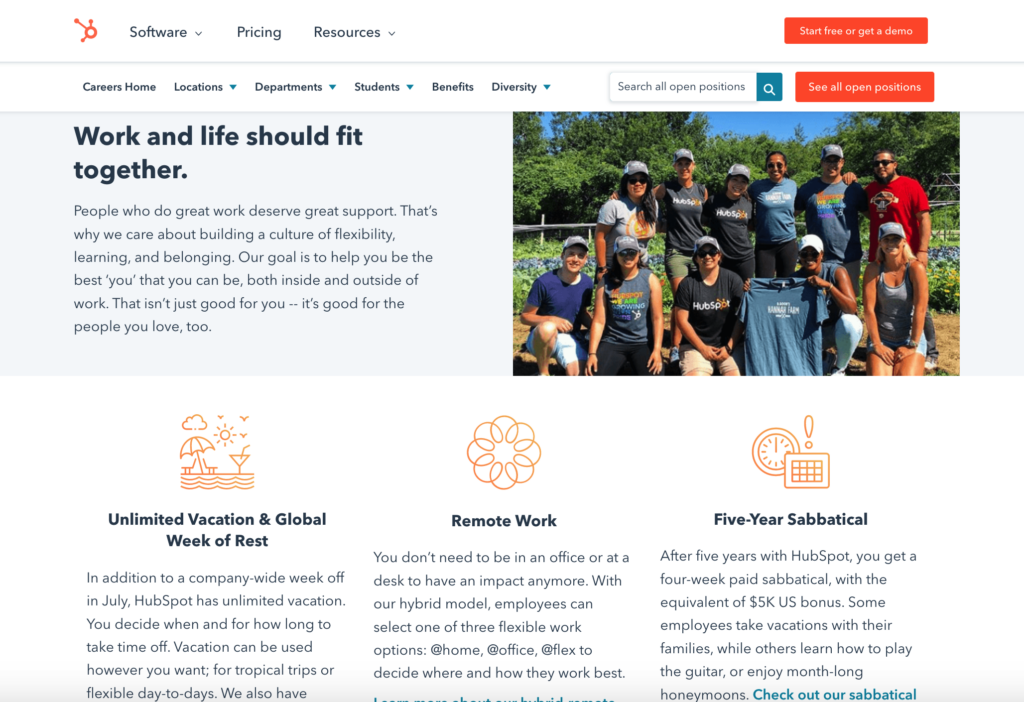 So with just a little browsing, sales candidates can get up to speed and see why HubSpot is a software company to seriously consider. While you don't necessarily need to create as extensive a resource as this (and it may not make sense if you only hire occasionally), this shows how impactful a quality EVP can be.
Improving Recruiting and Retention with an Employee Value Proposition
There's no lack of sales jobs out there. In fact, the sales industry is booming more than ever post-COVID, which means quality candidates have plenty of choices. That's why it's so important to stand out from the rest of the pack and show candidates what you bring to the table — something that can be done by building a great EVP.
Learn how HireDNA can help you attract and retain A+ sales talent while cutting your hiring time in half by using intelligent matching and science-based assessments. 92% of suggested candidates ascend to the top of the sales force within just one year.