When you break it all down, there are two fundamental approaches to sales recruiting. One is to bake turnover into your recruiting strategy where you only think short-term and continually replace salespeople with little to no potential for internal growth. The other is a long-term sales recruiting strategy where you focus on finding quality talent with the end goal of internal promotion, providing a framework for rock stars to rise through the ranks.
For this post, I'll explain why long-term sales recruiting is usually the best option, especially in today's current sales recruiting climate. I'll also provide specific tips on how to successfully adopt this approach.
Illuminating Data from Gartner
In a 2020 HR and recruiting study, technology research firm Gartner uncovered that only a small number of new sales hires are equipped with the skills for long-term growth. "Organizations are struggling to hire quality talent as only 16% of new hires possess the needed skills for both their current role and the future," Gartner explains.
This means that for every 10 sales reps you hire, less than two will realistically have the ability to level up in their role and take on a more demanding position such as a sales manager or account executive. While that may be fine if you're only looking for salespeople for limited roles and aren't concerned with internal growth, it can be quite vexing if you're hoping to create a rich culture with an emphasis on internal promotion.
In other words, this data shows that many companies end up "spinning their wheels" where they're unable to successfully move salespeople up the ladder. Instead, they often get stuck in an endless cycle of hiring entry to mid-level reps who hang around for a while and eventually leave with no major progress occurring. As a result, these companies struggle with turnover and basically plateau without reaching their full potential.
So what's the solution?
Taking a Long-Term Sales Recruiting Approach
It boils down to making a fundamental change in your sales recruiting approach. Rather than simply finding salespeople who match what you're currently looking for in an entry to mid-level position, you need to think long-term and look for candidates with the potential for serious growth.
"To hire quality talent, recruiting leaders must shift their strategies from replacing the workforce to instead shaping the workforce," Gartner writes. Recruiters "that excel in these workforce-shaping behaviors see a 24% increase in quality of hire." And "high-quality talent can have a significant impact on business outcomes, including individuals who successfully perform in their roles 20% faster and teams that get a 19% boost in their ability to meet future challenges."
For the rest of this post, I'll explain exactly how to go about that.
3 Key Strategies for Long-Term Sales Recruiting
1. Clearly Define "Big Picture" Skills
It starts by first creating a robust sales candidate profile that focuses on both short and long-term objectives. Here's an example.
Say you're currently looking for a talented salesperson who possesses fundamental skills like establishing and building rapport with customers, successfully performing product demos, resolving customer complaints, and so on. However, you're also looking for someone who has the talent for long-term growth as a sales manager later on down the road.
In that case, you would want to add additional skills to your sales candidate profile such as strong leadership, strategic planning, comprehensive CRM knowledge, and analytical abilities. Here are some other examples.
That way, whoever you hire should be equipped with the skills to grow beyond their initial role and be a bigger asset to your company.
2. Expand Beyond Your Traditional Talent Pool
Another way today's companies get themselves in trouble is only targeting sales candidates using their traditional talent pool. But this approach can be limiting, especially in our globalized world where remote work has become ubiquitous. If your current sales recruiting strategies feel a little stale, it's time to expand beyond and tap into other resources.
HireDNA, for example, is a helpful tool for filling your pipeline with qualified sales candidates at all levels. It uses innovative techniques like sourcing top talent from a massive network of top-level candidates, intelligent matching based on 20 key data points, and science-based assessments involving 21 core selling competencies.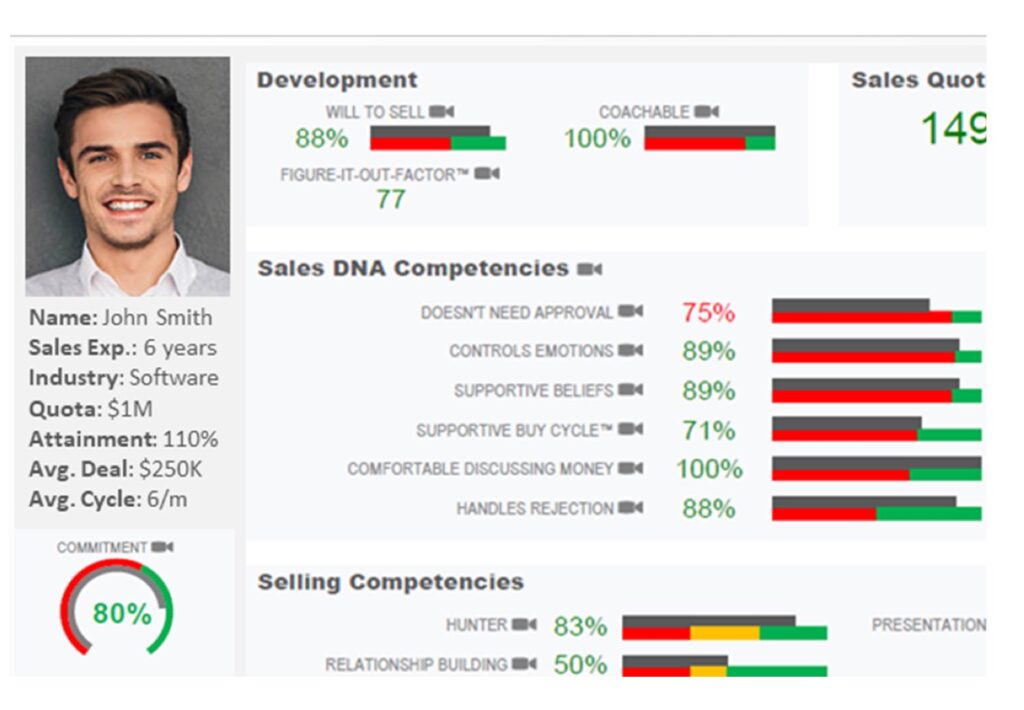 Instead of limiting yourself to a small, local talent pool, HireDNA can help you connect with elite salespeople from all over the country.
3. Create a Strong, Adaptive EVP
In a recent blog post, I explained how to build a rock-solid employee value proposition (EVP). Simply put, this is a mix of the benefits, rewards, perks, recognition, support, and overall value you offer to your salespeople. And an EVP is something that's absolutely vital to maximizing retention and creating an atmosphere for long-term growth.
If you haven't done so already, I recommend reading that post to learn the ins and outs of constructing a winning EVP. Also, be sure to continually adapt with your EVP, ensuring it's responsive and nimble enough to change as the sales recruiting climate inevitably changes.
Winning at Long-Term Sales Recruiting
I was personally a little surprised to find out that only 16% of new hires have what it takes to expand into future roles. This lack of talent and skillset in the vast majority of candidates imposes inherent limitations on sales recruiters and shows that the current game plan many companies use is insufficient for promoting strong internal growth.
By implementing the three strategies listed above, however, you should be able to create a better pipeline of sales talent who can grow alongside you.
Want to know more about how HireDNA uses cutting-edge technology to find A+ sales talent? Reach out to us today.