In 2022, the United States contained more than 17,000 SaaS companies within its borders. Those 17,000 companies serve over 59 billion global customers. In 2023, Statista projects the global SaaS market to exceed $195 billion in market value.
What's the common thread pinning these statistics together?
They wouldn't be possible without SaaS sales jobs.
Salespeople deliver results that directly contribute to company (and industry) growth. But, selling SaaS products and solutions is not easy. Tech companies are observing major issues with their SaaS sales recruiting and staff retention metrics—why?
SaaS Sales Recruitment: Obstacles & Challenges
Companies are finding it extremely difficult to source, hire, and more importantly retain competent, high-performing sales staff. Below, I'll examine some of the key reasons why businesses are experiencing these issues, and then how to revamp your sales hiring strategy.
It's a Skill Issue—Soft Skill Issue
One of my past blogs was on sales recruiting challenges. In it, I detailed one of the biggest challenges for sales recruiters and SaaS hiring managers: lack of soft skills in new hires. Why is that one of the biggest challenges? It's notoriously hard to quantify a candidate's actual soft skill competence with hard data. Companies often hire salespeople who have underdeveloped soft skills.
Empathy, collaboration, the ability to build rapport, and communication skills have always been difficult to quantify with hard data. However, there have been many innovations in this arena in recent years. For example, certain forward-thinking recruiting platforms are providing companies with the ability to accurately quantify a candidate's soft skill competence level.
For example, HireDNA is able to measure specific sales competencies, such as emotional regulation, foundational beliefs, and resilience in the face of rejection. This enables precise determinations of one's sales potential. This capability can have a significant impact on SaaS recruiting and hiring success.
Inefficient Hiring Processes
The top salespeople don't often stay between jobs for very long. In one of my past blogs, I mentioned that it's common to have a window of only 10 days to find and hire the cream of the crop sales candidates. This is why inefficiency can destroy an organization's ability to hire the best talent possible. In the fast-paced world of SaaS sales and IT sales recruitment, this rings especially true.
Below are a few of my recommendations to improve your recruiting and hiring processes:
Have a clear understanding of the role you are hiring for and the goals you wish to achieve through this hire.
Leverage both passive and active candidates: A lot of the industry's top talent will not be actively looking for a job.
Use a thorough pre-screening process that includes state-of-the-art tools and science-based evaluations. Interviews that focus on behavior, and an in-depth examination of candidates' past performance, are also beneficial.
Employ a sales-specific assessment tool to ensure a candidate's "sales DNA" competencies are accurately assessed and measured against your organizational needs.
Simplify the application process: It's possible you are losing great candidates very early in the process simply because your application process is too complex or drawn out. I wrote more on this topic here.
Recommended Tools to Source, Screen, Interview, Hire, and Onboard Top SaaS Sales Talent
The end-to-end process of recruiting and hiring top sales professionals can be overwhelming and time-consuming, especially for SaaS companies. But it doesn't have to be. I want to share with you two powerful tools that can help streamline your hiring process and ensure you find the optimal fit for your team.
eSkill
eSkill provides a detailed evaluation of a candidate's communication and collaboration skills. These traits are critical in a sales role. Here are a few of the main advantages that eSkill can provide your company:
Gain a deeper understanding of how well a candidate will work within your sales team, increasing the chances of a successful hire.
Easy to use and can be integrated into your existing hiring process, making it seamless and efficient.
Wide range of assessments, including pre-employment assessments, behavioral assessments, and skills assessments, allowing you to assess a candidate's fit for the role and your company culture.
Detailed reports on each candidate, allowing you to make more informed hiring decisions.
Identify potential red flags early on in the hiring process, saving you time and resources.
Cost-effective and can help you save money by reducing the need for expensive and time-consuming interviews.
Determine the strengths and weaknesses of your candidates' emotional intelligence, so you can provide specific, targeted training and development after they are hired to help them (and your company) flourish.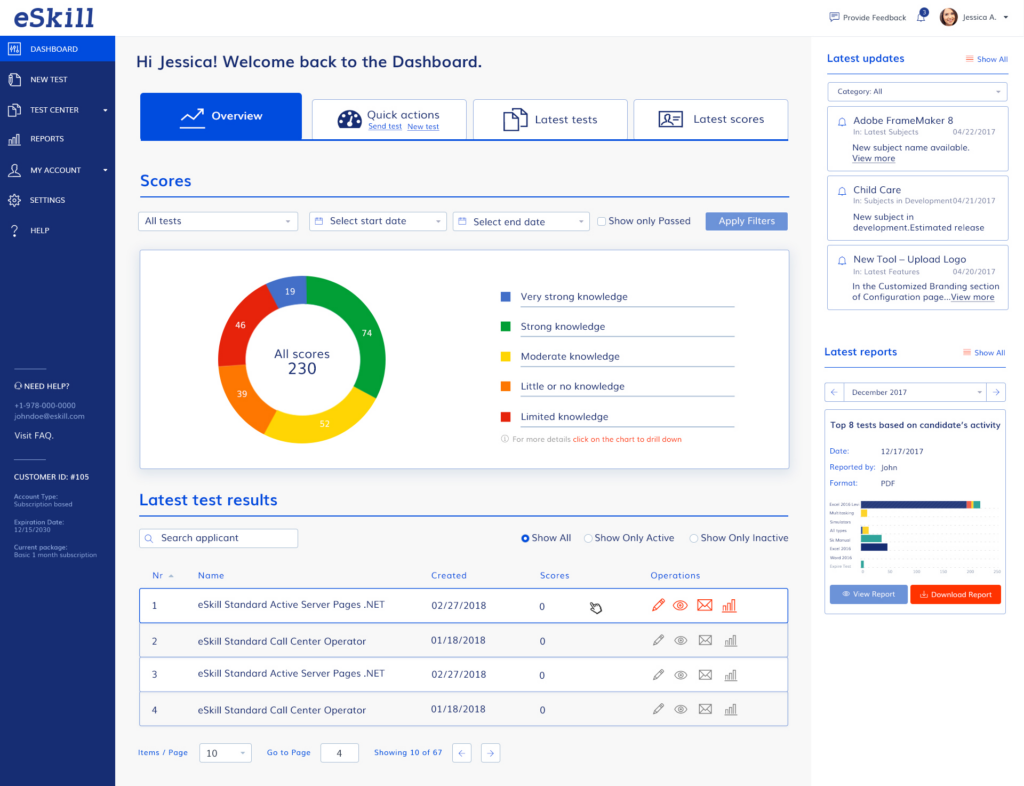 HireDNA
Using HireDNA as a part of their recruiting, hiring, onboarding, and training processes, SaaS companies can gain access to a powerful platform that leverages AI and science-based assessments to find the perfect fit for their sales team. Custom-developed for the needs of technology sales teams, HireDNA enables a faster and more streamlined pipeline of qualified candidates, accurate and predictive sales assessments, and effective onboarding and training.
Here is a short overview of our platform's features and service offerings:
Powerful AI matching technology coupled with a proprietary sales recruiting platform, ensuring companies can source and attract top sales producers who fit their ideal candidate profile and selling environment.
Crowdsourcing and candidate referral models provide access to an extensive network of sales professionals. This creates a faster pipeline of qualified candidates.
Partnership with Objective Management Group (OMG) provides access to sales-specific candidate assessments and salesforce evaluations. These evaluations have been independently verified at 95% accuracy.
Onboarding and training processes designed to help new hires ramp up faster and improve retention. HireDNA's training includes micro-learning, videos, quizzes, and action plans. All are tailored to the new hire's sales DNA.
HireDNA's results speak for themselves. 50% faster new hire ramp-up, 80% of searches ending in a successful placement, and 92% of candidates recommended and hired reaching the top half of the salesforce.
Using a science-based approach to SaaS sales hiring will continue to become more prevalent over the coming years. As tools like HireDNA and eSkill continue to evolve, companies will be able to attract, hire, and retain more of the best candidates possible—candidates who fit perfectly into their sales ecosystem, company culture, and performance requirements.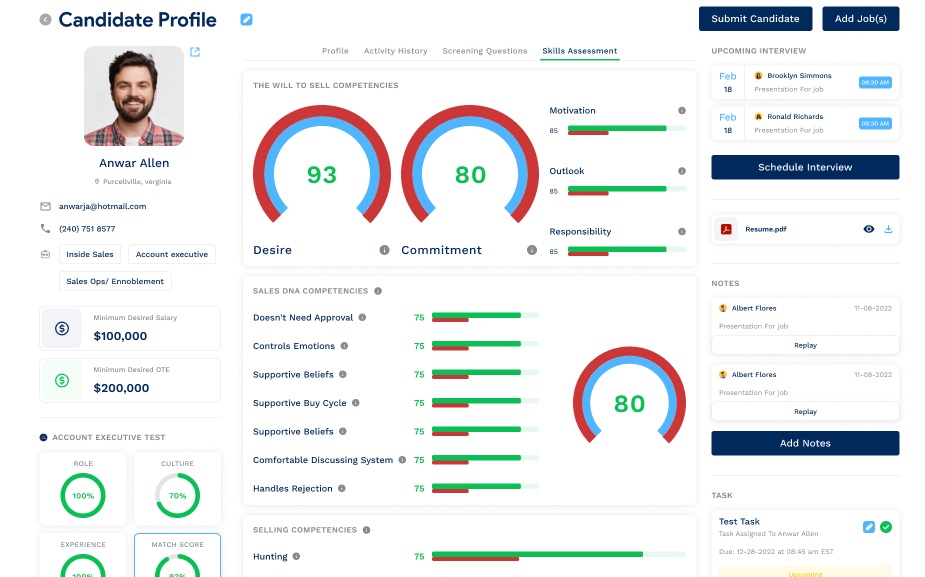 Top 5 Best Practices for SaaS Sales Recruiting and Hiring
1. Have a deep understanding of your "why"
What is your company's "why?" What about your sales department's "why?" Culture, vision, goals, objectives, etc.—these all play an important role in the formation of your company's "why." When you lack a clear understanding of your company's vision, ideals, and mission, it can be extremely difficult to find the right talent that fits into your brand's unique culture and sales ecosystem.
2. Streamline and use a data-driven approach
Having a long, over-extended recruitment process is a talent killer. Luckily, recruiting in SaaS has come a long way (even compared to just a few years ago). Platforms like ours empower companies to fully transform the way they source, recruit, hire, and retain top sales talent. The importance of streamlining your approach to recruiting cannot be overstated. Likewise, leveraging the power of data and AI-driven recruiting tools can be a real game-changer for SaaS companies.
3. Use your company's value proposition
One of the more overlooked sales recruiting tips is leveraging your company's value proposition. Your unique value proposition is a strong selling point to potential sales candidates. Using your value proposition during the recruitment process is crucial. It makes sure that potential hires align with the mission, culture, and "why" of your company. By clearly communicating your unique value proposition, you can ensure you are only bringing on individuals who are genuinely excited about what your company has to offer.
4. Leverage the power of incentives
Incentives, for both on-hire and performance-based, can make a large difference in attracting top talent that is able to perform versus mid-range salespeople that deliver lukewarm results. Another major reason why incentives are vital to elevating your hiring strategy—passive candidates, which are often top performers, will typically need to be coaxed out of their current roles. Incentivizing passive candidates is highly recommended. Examples of compelling incentives include:
Bonus upon hiring
Compensation increase
Stock ownershp
Flexible and/or hybrid work environments
Growth opportunities within your organization
Ongoing SaaS sales training using industry-leading frameworks, workshops, and resources
5. Consider using SaaS sales recruiters
Delegating the traditionally resource-intensive process of recruitment to SaaS sales recruitment agencies can be helpful for certain companies. Top-notch agencies and their rosters of recruiters are experts at matching top talent with the right companies. However, many recruitment agencies in the tech industry use outdated methods and source poor-quality talent, so I recommend doing your due diligence if you're considering hiring an agency.
Wrap-Up
Salespeople play a vital role in the growth of SaaS companies and the industry as a whole. Finding and retaining the industry's top talent can be difficult, but the advice laid out above can help transform your recruiting process. A quick recap of what we covered:
Leverage next-gen recruiting platforms (e.g., eSkill, HireDNA, etc.) to help weed out poor-fit candidates.
Restructure your offer – focus on your value proposition, incentives, and attracting talent.
Recruit both active and passive candidates.
Streamline your processes.
Although companies face many challenges in SaaS hiring and recruitment, the strategies outlined in this blog can help maximize your recruiting efforts and source tier-one talent for your organization.