When most people think of sales recruiting, they envision going after traditional active candidates — individuals that respond to a job ad or reach out to you. But some of today's most successful sales recruiters are those that seek out passive sales candidates — individuals who aren't actively looking for a new job but would be open to the right offer.
According to research, passive sales candidates account for as many as 75% of professionals and often end up being the best team members. However, landing these rockstars isn't always easy and requires several touchpoints. Up to 17 to be exact.
Let's now unpack this phenomenon and explain how you can win over elite talent.
Passive Recruiting According to an Expert
In an interesting article, job description optimization software Ongig talks about an interview they had with a talent acquisition leader at a Fortune 500 company. "Some candidates are worth the time," they write. "Their team has to make 17 touches to recruit passive candidates." And to clarify, "by 'touches,' she is referring to 17 outreach activities it takes to close a passive candidate."
Here's an exact breakdown of the specific touchpoints they use.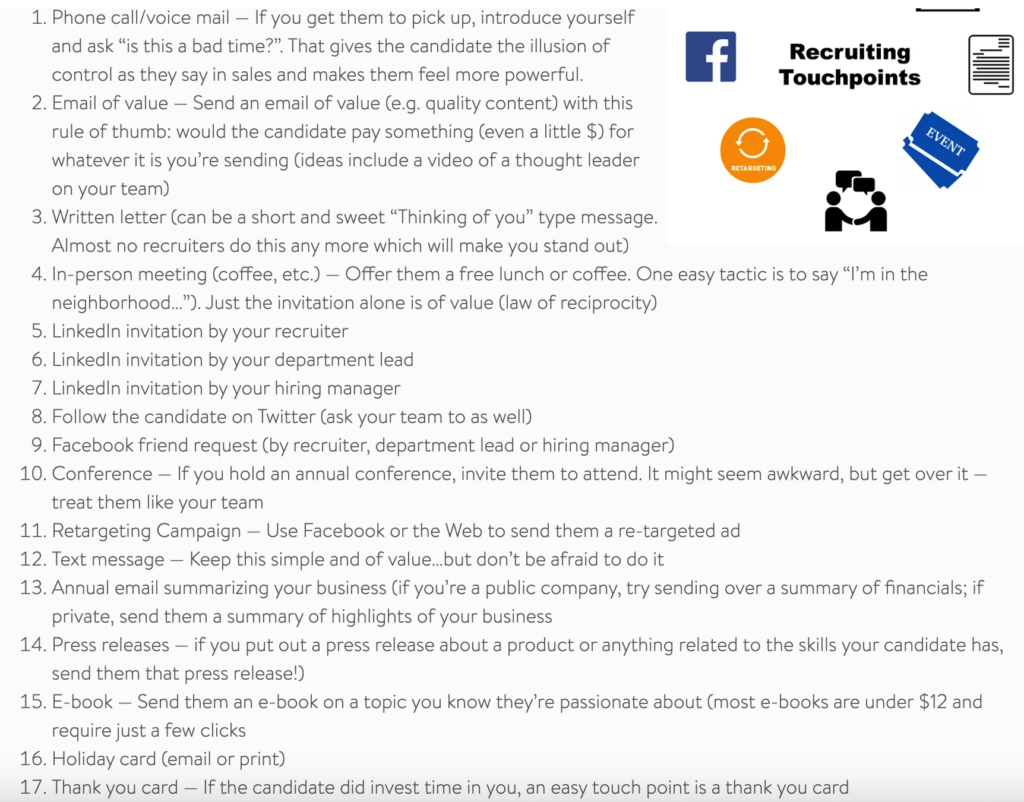 Now are every single one of these touchpoints necessary to land a passive candidate? No.
And is this the exact sequence you should follow at your company? Perhaps not.
The point here is that recruiting passive sales candidates is more involved than many people think, and it's something you need to have a strategy for. After all, many passive sales candidates already have cushy jobs and make good money. They know their value and aren't in a rush to find new opportunities.
Therefore, most won't jump at the first thing that comes along. Instead, they need to be nurtured — wooed if you will. This brings me to my next point.
Treating Recruiting Like Sales
Another thing I like about the article from Ongig is that they mention that "recruiting is no different than sales," and "sales trainer Grant Cardone has some interesting related data: he claims that 95% of closed sales happen between the 3rd to 12th touch." That really struck a chord with me, as I completely agree.
You can't throw up a single piece of marketing collateral and expect leads to buy right off the bat. It's a process that requires delicate nurturing where you gradually build rapport with a lead, get them comfortable with your brand, and address their concerns before they're ready to buy. And it's basically the same when recruiting passive sales candidates.
So I think having this mindset is the first step in winning over elite talent. I suggest borrowing from the sequence of touchpoints mentioned above and using that as a basic formula. You can, of course, customize it as you see fit and make adjustments as you go.
Besides that, here are some other helpful tactics.
Use a Sales Recruiting Platform
Recruiting technology has come a long in recent years and can be a huge asset for connecting with passive candidates. One particular type of technology that's helpful is a sales recruiting platform like HireDNA. With it, you can engage passive candidates that match your criteria and tap into a national network of the top sales recruiters to fill your pipeline.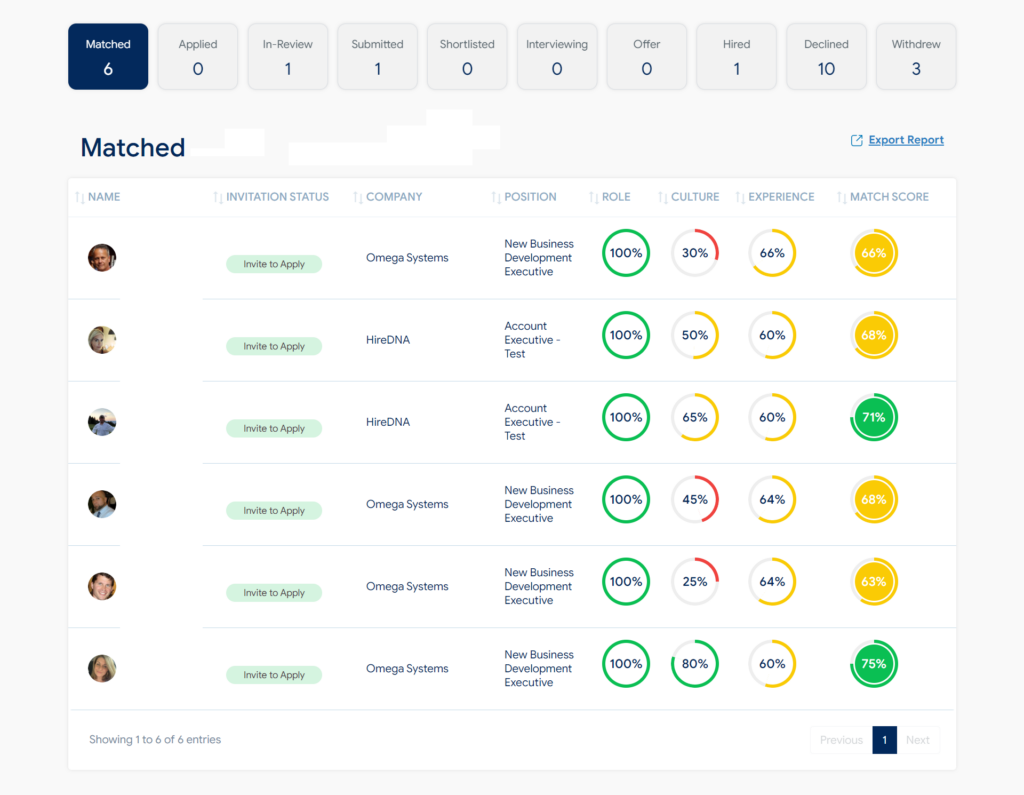 Rather than spending a ton of time manually seeking out passive candidates, HireDNA automates the process for you. That way you can focus on your core business activities rather than sales recruiting. And to make the experience even more convenient, HireDNA will screen each candidate and evaluate their core selling skills to ensure they're a good fit for your specific sales environment.
From there, qualified candidates will be delivered right to your inbox for final approval and you can set up an interview.
Be Active on LinkedIn
With 875 million users in 2022, it's the number one social media site for professional networking. And it's a potential gold mine for meeting and engaging with passive sales candidates that could be strong assets to your company. That's why I recommend being active on LinkedIn and always being on the lookout for great talent.
The more robust your network is, the more sales professionals you'll be in contact with. And if you find someone that looks like the right fit, you can pounce on the opportunity right away.
Set up a Careers Page on Your Website
I'm a firm believer in letting elite talent come to you rather than always being the one pursuing talent. Just like a sales recruiting platform automates much of the process, so does having a careers page on your website. Here's the logic.
Say a talented sales rep who wasn't officially seeking a position came across your site. After being impressed by your product/service and overall brand, this could pique their interest to check out what it's like working for you. Then, after browsing through your careers page, they notice you have an open position that's right up their alley. This could compel them to apply without you having to lift a finger. Rather, high-quality talent comes right to you by having a recruiting funnel in place.
HubSpot is a great example of a brand that uses this strategy.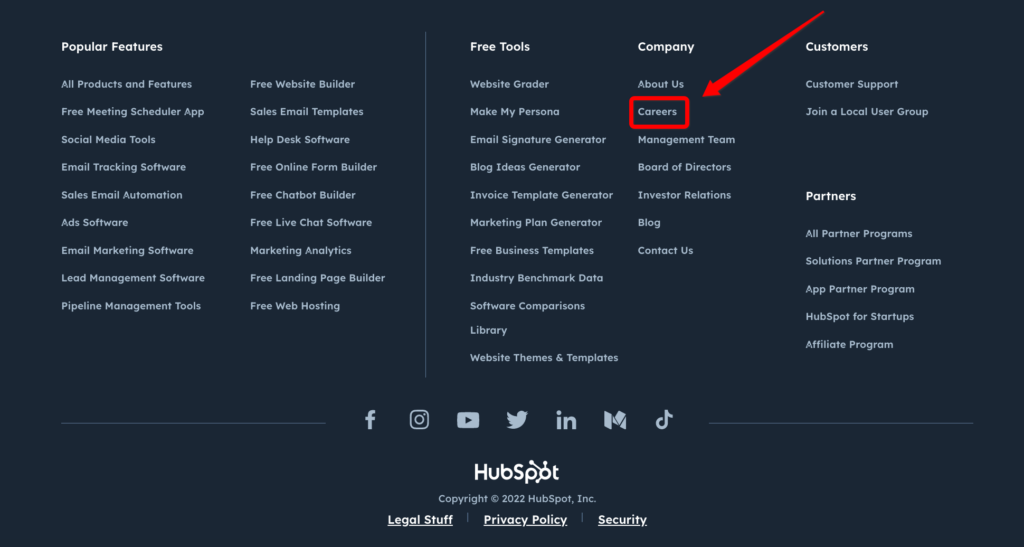 And it's something that can work for you as well.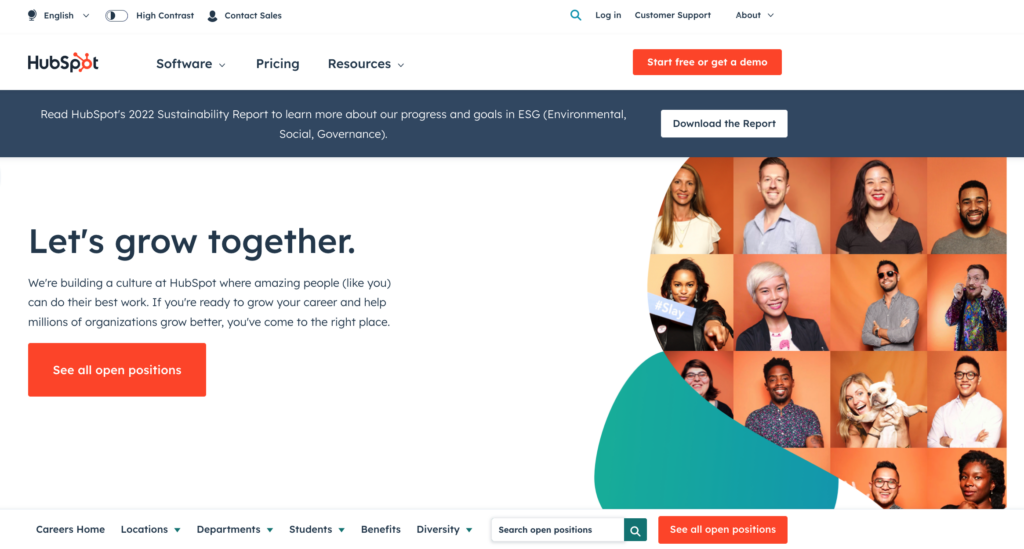 Recruiting Passive Sales Candidates
With as many as three-quarters of professionals being passive sales candidates, this is an aspect of recruiting that shouldn't be overlooked. I personally found it interesting that this can require up to 17 touchpoints, which is why it's important to have a fully fleshed-out formula to nurture passive candidates until they're ready to commit. That along with implementing a few key strategies can help you fully capitalize on this potent form of recruiting and increase the strength of your sales team.
To see HireDNA in use and understand its full range of benefits, go ahead and schedule your demo today. 92% of suggested candidates go on to reach the top of their sales force within a year.