SaaS sales has one of the slowest times to hire, according to recent data from LinkedIn. Their study found this industry has a median time to hire of 38 days, which means it takes well over a month for most SaaS companies to fill vacant positions.
But what do you do when you're in a rush and need to find qualified SaaS sales candidates in a hurry?
Here's a proven strategy that can slash your hiring time in half.
Pre-Screen SaaS Sales Candidates
There's a lot that goes into making the right hire. For example, you need to look at hard and soft skills, previous experience, education, core competencies, and so on. This, however, presents a problem because it can quickly become overwhelming to sort through all of this information manually. And many SaaS companies simply don't have the bandwidth to devote to intensive recruiting.
One of the best ways to filter through a high volume of applicants and narrow it down to the top contenders is through pre-screening. This is where you gather critical qualification information about candidates so you know who meets the necessary criteria and who doesn't. That way you can quickly determine who to move to the next round of hiring and who to pass on.
When done correctly, this can expedite the hiring process dramatically.
But There's a Caveat
There's just one issue. The pre-screening systems that many SaaS companies currently use often fall short.
"The problem with most pre-screening processes is they are misaligned with your company's needs related to missing skill sets, knowledge, or experience," writes Murray Newlands in Forbes. Also, "antiquated pre-screening techniques could be prone to human errors and those involved in this part of the process may not be trained to make the right decisions."
In other words, failing to have the right pre-screening system in place can actually do more harm than good. And if it's not having any tangible results, what's the point?
Use a SaaS Sales Recruiting Platform
That's where a SaaS sales recruiting platform comes in. This software uses a proven, repeatable process that enables you to quickly find top talent that's interview-ready without having to manually sift through dozens or even hundreds of candidates yourself. More importantly, it takes into account all of the essential qualification information necessary to ensure you make the right hires.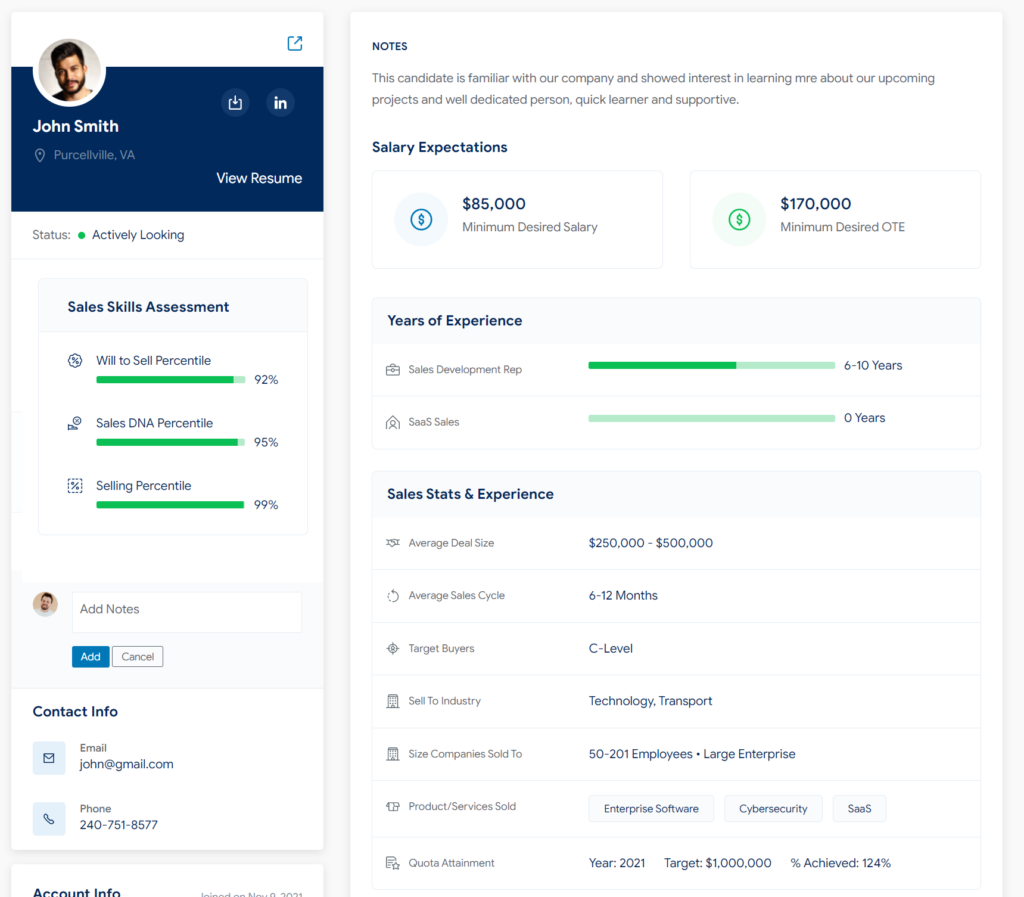 Here's how it works.
First, you define the skills, competencies, and characteristics you need in a sales candidate — their "DNA." Next, the software uses powerful technology to pinpoint a list of active and passive candidates that perfectly match your criteria. HireDNA, for instance, taps into a verified national network sales talent to generate a pool of top-tier candidates.
From there, candidates are screened and assessed using the OMG Sales Candidate Assessment which uses quantifiable data to predict success before being hired. HireDNA uses intelligent matching that analyzes 21 key data points to determine role, culture, and experience fit. This ensures every single person who makes it to the interviewing round fits your ideal candidate profile and has the core competencies needed to thrive in your SaaS selling environment.
Here's an example.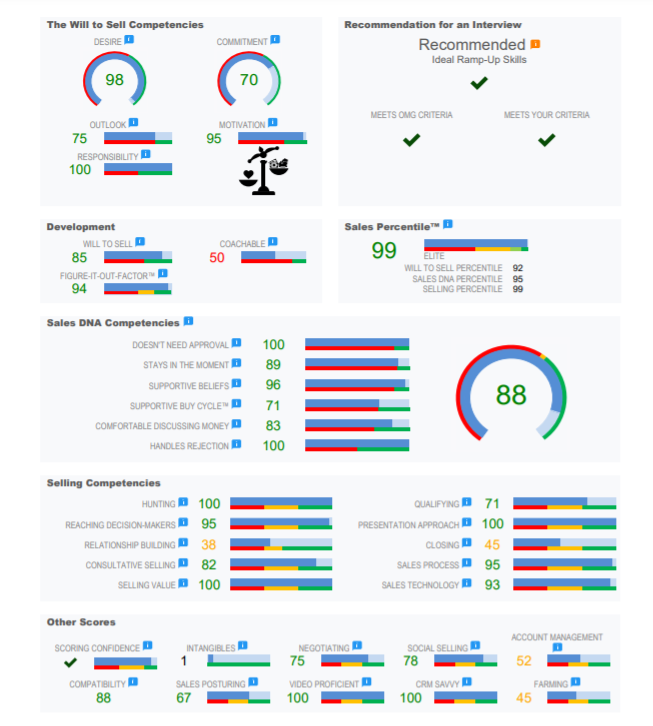 At that point, the best of the best candidates are delivered to your inbox where you can conveniently manage them and decide who you want to interview. It's then just a matter of going through the interview process and selecting new SaaS salespeople for your team. Platforms like HireDNA even include onboarding and training programs to get new hires up-to-speed quickly and have them hit their quotas in a shorter period of time.
Additional Benefits
While results will vary, many SaaS companies are able to slash their hiring time in half with this pre-screening process. So, if you're frustrated with your current time to hire, a SaaS sales recruiting platform is definitely something to consider. Besides the impact it can have on hiring duration, it offers some other key benefits as well.
Perhaps the biggest is that it allows you to attract higher-quality candidates. Research has found, for example, that utilizing the OMG Sales Candidate Assessment can reduce hiring mistakes by 96%, and 92% of recommended candidates reach the top half of the sales force within their first year. Enabling SaaS companies to swiftly navigate through the process without running into any major glitches.
Finally, there's a correlation between using a SaaS sales recruiting platform and higher retention. In fact, turnover decreases by more than 33% with HireDNA — a trend that's largely due to the industry-leading assessment science. By building a stronger team of sales reps that are naturally a great fit for your company, you can keep more of them around for the long haul and often set the stage for internal promotions. That way you're not stuck in the endless cycle of finding and onboarding SaaS salespeople, only to wind up needing to replace them.
Drastically Reducing Your Time to Hire Without Sacrificing Quality
With 38 days being the median time to hire for SaaS companies, it's definitely an area that needs some improvement. After all, if a key position is sitting vacant for over a month, this can take a chunk out of your productivity and profitability. Developing an efficient, pre-screening process, however, ideally with a technology sales recruiting platform, can dramatically reduce your time to hire by as much as 50%.
Want to learn more about how this technology can accelerate your SaaS sales hiring?. Reach out to HireDNA today!