A pre-employment assessment test is nothing new for high-level sales positions. They've been used for years to analyze candidates like account managers, regional sales managers, chief sales officers, and so on.
But in recent years, a growing number of companies have been using pre-employment assessment tests for nearly all positions, such as basic sales reps. The question is, does this make sense for your company? And if so, how should you approach it?
82% of Companies Now Use a Pre-Employment Assessment Test
A few years back, SHRM wrote a fascinating article about the rise of predictive assessments that referenced multiple studies on the topic. In it, SHRM writes, "according to the Talent Board's 2016 Candidate Experience Research report, 82% of companies are using some form of pre-employment assessment test, and how they use assessments is evolving.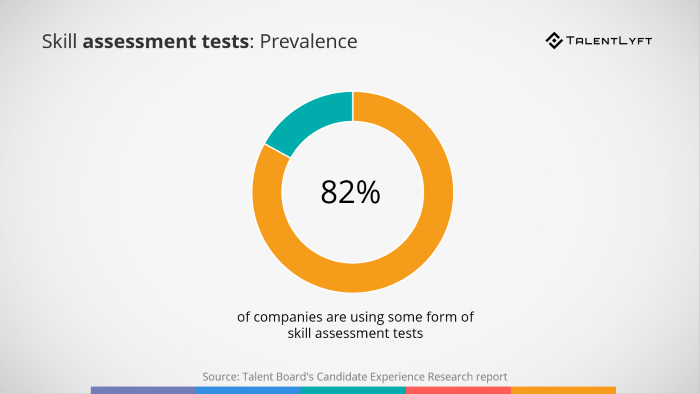 Two particular types of popular screens are job simulations (54% of respondents are using these, according to the Talent Board study) and culture fit (51% using, a 22% increase from the Board's 2014 study. While assessments once primarily were used for executive and mid-level leadership positions, today they're commonly used for hourly and entry-level jobs."
Note that the data SHRM referenced was from 2016. So it's likely that even more companies are using a pre-employment assessment test in 2022. And with screening technology continually advancing and improving, this is a trend that's likely to continue.
This brings me to my next point.
Is a Pre-Employment Assessment Test Right for You?
Let me first say that there's no magic bullet for sales hiring, and you can never be 100% sure that a candidate will work out. That said, a pre-employment assessment test is pound-for-pound one of the most effective tools available for improving your sales hiring success rate.
When utilized correctly, a pre-employment assessment test offers a wide range of benefits, including:
Quickly testing a candidate's true abilities
Determining how good of a fit they are for a particular sales position
Determining how good of a cultural fit they are
Differentiating between two similarly skilled candidates to figure out who's better
Efficiently filtering through a high volume of candidates
Reducing or even eliminating bias
Spending less time performing manual assessment tasks
Not only that, pre-employment assessments often improve the candidate's experience because it gives them a fair chance to showcase their talents. When you put it all together, it's easy to see why this is such a popular sales hiring tool and why an increasing number of companies are choosing to use it.
For that reason, I truly believe the vast majority of sales recruiters can benefit from using a pre-employment assessment test. If you've been considering using one but haven't gotten around to it, now is a great time to do so.
How Should You Approach Pre-Employment Assessment Testing?
There are several ways to go about it. SHRM lists some specific types of tests and testing methods, including:
Cognitive ability tests
Personality tests
Aptitude tests
Honesty and integrity tests
For some companies, a pre-employment assessment test could be something as simple as asking a few cognitive questions regarding IQ, verbal ability, and deductive reasoning, along with some basic personality questions involving motivations, communication skills, and attitude. If you're simply looking to uncover the essentials to better determine how good of a fit a particular candidate would be for a sales position, this can be sufficient.
But if you want to go a bit deeper (which is ideal in today's competitive sales world), it's usually best to use pre-employment testing software, as it streamlines the process and adds a level of objectivity that's hard to achieve with conventional, manual techniques. Also, today's software is highly advanced and capable of producing detailed data to help you make the best choice through visual reports.
Using HireDNA as an Assessment Tool
One particular platform that's helpful for many sales recruiters is HireDNA, which both generates and screens candidates.
First, HireDNA uses intelligent matching that analyzes 20 key data points to find top-tier candidates that are perfect fits for the specific role and your hiring criteria. For example, this software looks at things like role, culture, and experience fit and provides a quantifiable number of how qualified a particular candidate is.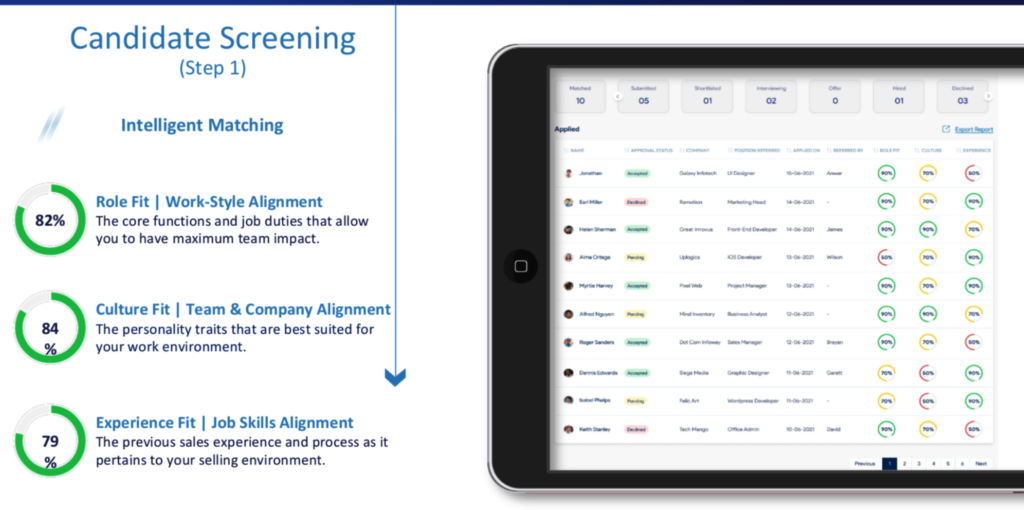 From there, HireDNA screens the candidates using a science-backed assessment and matching algorithm to objectively predict success before hiring. This takes the guesswork out of the process and is a highly accurate way to assess each candidate's selling skills and overall capabilities. In turn, this filters out individuals who wouldn't be a good fit and ensures only the highest quality standards.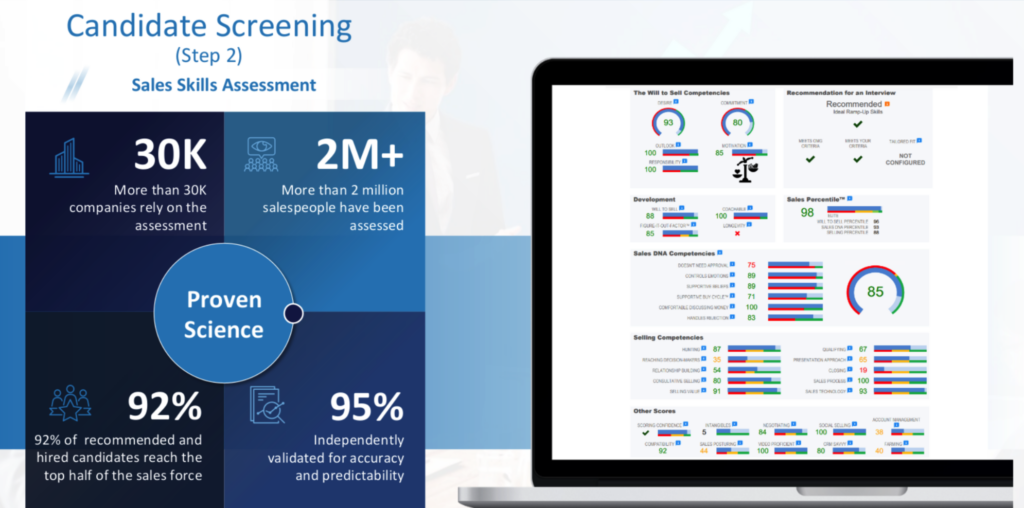 In terms of effectiveness, 92% of candidates recommended through HireDNA go on to reach the top of the sales force during their first year, and 96% of hiring mistakes are eliminated. Besides, that turnover is reduced by a third on average.
Wrapping Up
Candidate testing has evolved dramatically in recent years. It's gone from primarily testing higher-level positions to testing candidates at all levels. With 82% of companies now implementing some form of candidate testing, it's clear that it's working and can be quite effective. It's just a matter of finding the right pre-employment assessment test for your company.
While simply asking a few questions can certainly work for making a basic assessment, most sales recruiters see the most success using a technology sales recruiting platform like HireDNA that features intelligent matching and science-based assessments because of the high accuracy and ability to consistently predict success. To learn more about HireDNA and see it in action, you can request a live demo today.