Your sales team is the lifeblood of your company. It's that simple. Regardless of how great your marketing team is at generating leads and your customer service team is at resolving issues, it's all for nothing if your salespeople can't close. To ensure you A) have a team of qualified professionals and B) they're operating at their best, routine sales team evaluations are essential.
In this guide, I'll provide a practical strategy to effectively evaluate your salespeople to get them firing on all cylinders.
Assess Your Sales Team as a Whole
When determining performance, you'll need to look at the macro level of your collective sales team and the micro level of individual salespeople. I recommend starting at the macro level because it should show you your team's performance as a whole.
To do this, you'll need to identify the specific KPIs that are most important to your sales team's success and analyze them. While numerous KPIs play a role in sales team performance, here are some of the most fundamental.
Revenue
Conversion rate
Quota attainment
Average deal size
Sales cycle length
This graphic illustrates even more potential sales KPIs to look at.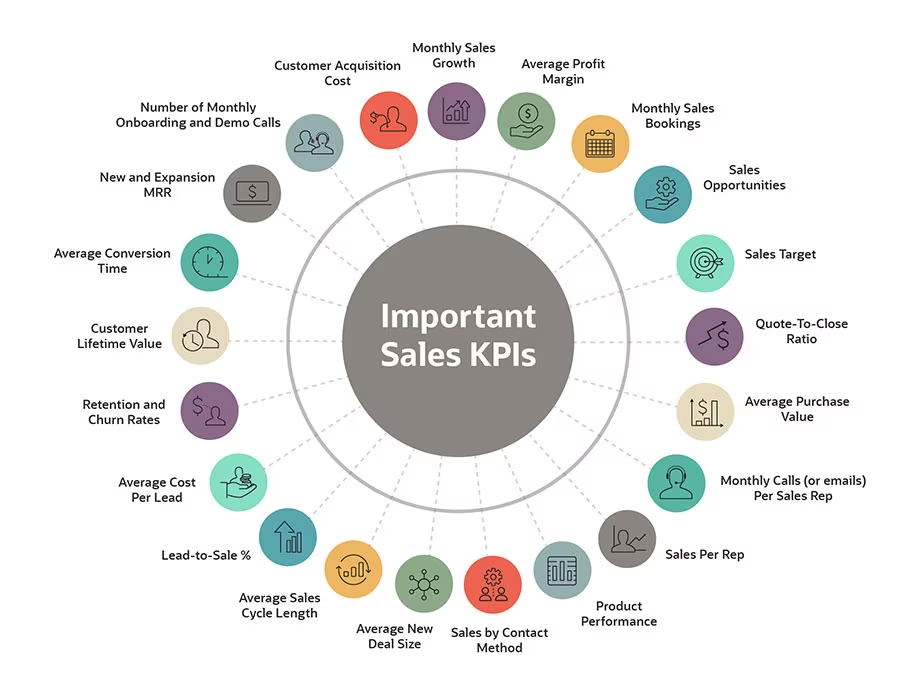 Assess Individual Salespeople
Once you've got a clear idea of what your collective sales team's performance is, it's time to go more granular to individual salesperson performance.
Most of the KPIs here will look the same, and you'll want to look at revenue, conversion rate, quota attainment, average deal size, and so on. However, there are a few other KPIs you'll want to measure on the individual level to gain a deeper perspective on how big of a contributor each rep is to your organization.
Some of those include pipeline contribution, win-loss ratio, and activity metrics like the number of emails, calls, and meetings over a particular period.
As you generate this data, it's helpful to create a graph that provides a visual overview of individual salesperson performance side-by-side. Here's a simple example.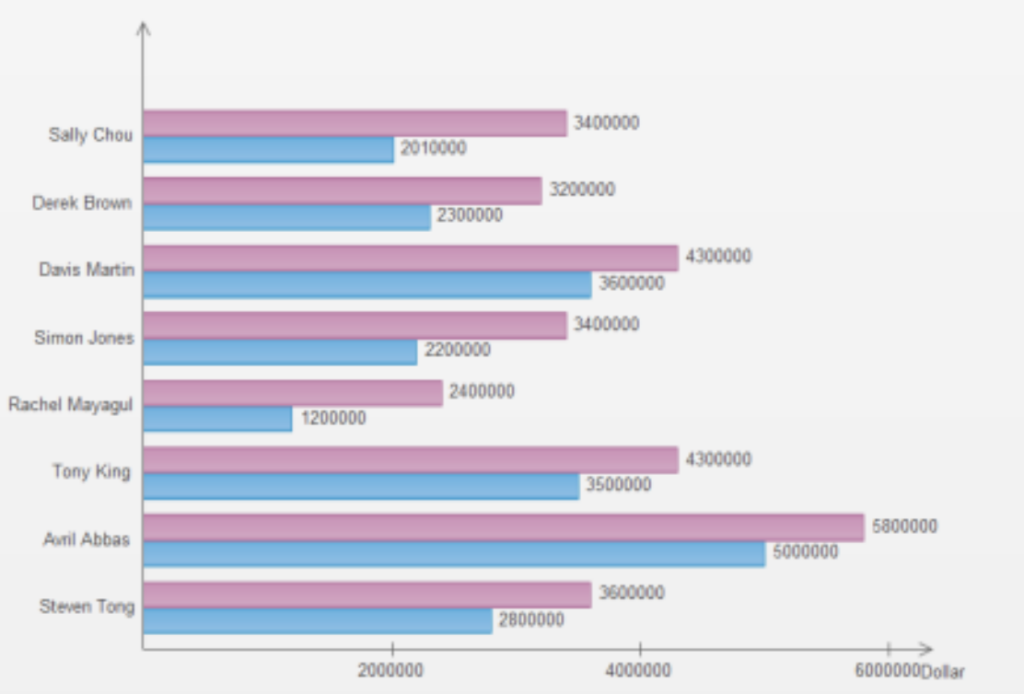 While this won't necessarily tell the whole story and you'll want to take extraneous factors into account, this should provide a fairly objective overview so you can get a sense of who your top performers are, as well as who's underperforming.
Look at the Overall Growth Trajectory
At this point, you should have a pretty good idea of how your collective sales team and individual salespeople are performing. You should also have identified any specific issues that need to be addressed, such as a particular sales rep's conversion rate being noticeably lower than other team members.
But to really get a bird's-eye view of which direction you're heading, you'll want to look at overall sales growth by comparing numbers over a period of time (you'll usually want at least one year of data). While there are multiple areas you can analyze to assess overall growth trajectory, total revenue tends to be the best starting point and should give you a good baseline reading of what your trajectory looks like.
Creating something as simple as a spreadsheet table with a breakdown of annual revenue like this usually should be adequate.

For more on calculating your company's sales growth, I suggest reading this post from HubSpot.
Look at Customer Satisfaction and Retention
At first glance, salesperson performance may not seem like it would have all that big of an impact on customer satisfaction and retention. But in reality, there's a significant correlation.
I like what global brand marketing strategist Angela Hausman has to say about it.
"Consistency plays a crucial role in fostering customer satisfaction across various touchpoints in a company's interactions with its clients. Customers expect a consistent experience when engaging with a company, whether it is through product offerings, service delivery, or communication. This consistent experience creates a sense of reliability and predictability, which, in turn, helps to build trust and confidence in the brand."
If, for example, a lead who eventually becomes a customer has a positive experience with a salesperson where the rep promptly follows up after inquiries, effectively addresses their unique pain points, and helps them choose the best product version, this is likely to build a good rapport. In turn, this should increase customer satisfaction and help retain them longer.
On the other hand, if the person has a poor experience with a salesperson where the rep is slow to respond and fails to point them to the right product version, it will likely create friction, which could be detrimental to the customer experience, and you may lose the customer earlier than you should.
The bottom line is that customer satisfaction and retention will often lend insight into sales team performance. While you will certainly want to look at other factors like product quality and customer service, I feel it's worth taking these factors into account during sales team evaluations, as this can help you spot problem areas.
For assessing customer satisfaction, you can use a mix of customer surveys, complaints, social media monitoring, and your Net Promoter Score (NPS).
And one of the better tools for measuring retention is Woopra, which offers a comprehensive overview of your churn rate over time.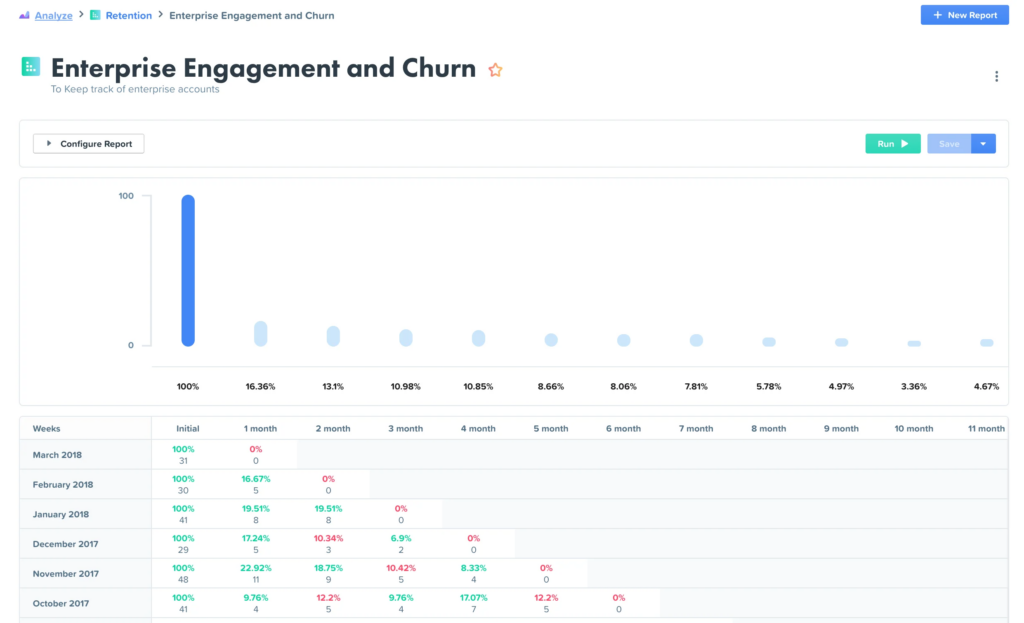 Using Sales Team Evaluations to Propel Your Company Forward
Due to the extreme impact your sales team has on your bottom line, evaluating their performance at least annually is highly important. By staying on top of it both collectively and individually, you should be able to identify minor issues before they escalate and further refine the areas you're succeeding in.
While the specific strategies used in sales team evaluations can differ significantly from company to company, the formula outlined above should ensure you cover all the major bases.
To get started with an evaluation of your sales team check out the OMG salesperson evaluation, it provides the most comprehensive and holistic sales-specific evaluation. You can request a free sample evaluation here.
And if you're looking to assess potential candidates to find the best of the best, check out The OMG Sales Candidate Assessment, which accurately predicts the likelihood of a salesperson succeeding based on 21 proven sales core competencies. 91% of recommended and hired candidates has positive on the job performance.