When most people think of sales recruiting, they likely envision scouting for active candidates who come to them and apply for a job. But according to a recent survey, 73% of candidates are passive, meaning they're not actively looking for a sales position, but would be open to it if the right opportunity came along. Given passive candidates are often the most talented, it's vital to develop a streamlined recruiting process where they don't have to jump through a bunch of hoops.
And that's what I'm going to tackle in this post. Here's a formula for swiftly moving A+ passive candidates through your hiring process without unnecessary friction.
Put Yourself in a Passive Candidate's Shoes
First, I think it's helpful to look at the situation from the perspective of a passive sales candidate. Most are already employed, and because they're in demand, have plenty of leverage. Therefore, they're not going to jump at just any offer that comes their way.
To seriously consider switching companies, it has to be a truly enticing offer that goes beyond what they have at their current job. So if you realistically expect to land elite talent like this, you need two main things — an amazing offer that surpasses what they have in their current position and a straightforward system that seamlessly moves them through the hiring process.
This brings me to my next point.
Clearly Define Why Passive Sales Candidates Should Choose You
Before you ever reach out to a passive candidate, you need to be able to quickly articulate what makes your company a better choice than their current employer — an elevator pitch if you will. While every brand's selling points will differ, here are some specific things most passive sales candidates want across the board.
Competitive pay and benefits (the 2022 US average was $99,826)
A healthy work-life balance
Flexible scheduling
Career development opportunities
Great leadership and a lack of micromanagement
Based on this and the unique selling points your offer, I suggest creating a recruitment pitch that you can reference at any time. And if you have multiple sales recruiters interacting with passive candidates, this should ensure a consistent experience.
Use Technology to Ensure a Passive Candidate is a Good Fit
If someone has stood out enough for you to have your sights on them, odds are they can sell. But there are other factors to take into account, such as working style, cultural fit, personality traits, and so on that will ultimately determine their likelihood of success.
Before you officially reach out to a passive candidate, it's smart to use technology like an AI tool or a SaaS sales recruiting platform to analyze passive candidates based on the specific criteria you're looking for. This will allow you to narrow the talent pool down and find the best of the best.
That way you don't waste the candidate's time or yours.
Make the Application Process Dead Simple
Research has found that "60% of job seekers quit in the middle of filling out online job applications because of their length or complexity." And for passive candidates that aren't actively seeking employment, they're even less likely to complete a long-winded application.

For that reason, it's critical to boil it down to the absolute essentials when gathering information. Better yet, allow passive candidates to apply through platforms like LinkedIn or Google so they can use their existing profiles rather than filling out a new one from scratch.
Offer Seamless Interview Scheduling
Another common source of frustration for candidates during sales recruiting is interviewing. The last thing you want is for a dream candidate to sour on a position because of complications during interview scheduling.
A simple way to prevent this is to use a tool like Calendly that allows candidates to conveniently schedule an interview at a time that's best for them.
Simply send an invite with several time slots that are available, and a candidate can have their pick.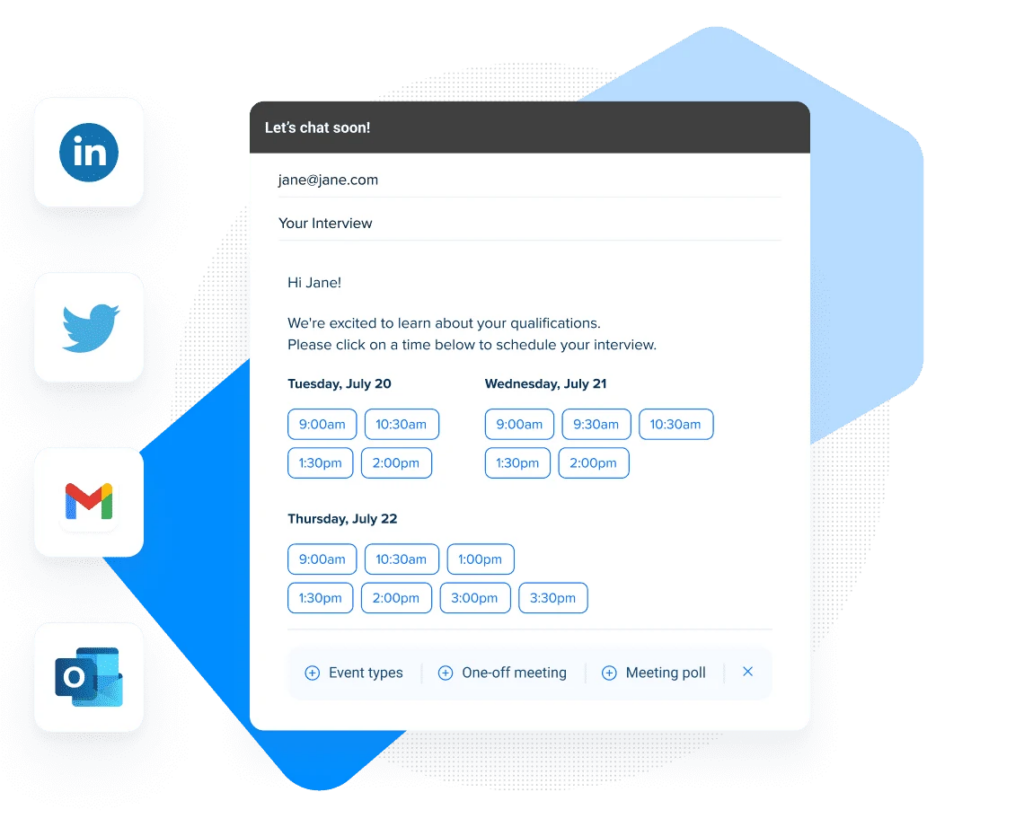 An added plus is that this also saves your recruiting team time from having to back-and-forth with candidates.
Keep Interview Rounds to a Minimum
Many sales recruiters require candidates to have two, three, or even four rounds of interviews before officially giving them a job offer. And while you want to be sure you've found the right person, going overboard on interviewing can be a major turnoff, especially for passive candidates that are already employed.
That's why I suggest keeping your interviewing to a maximum of two rounds to prevent any conflicts. However, if you can just have one comprehensive interview, that's even better.
As long as you've done your research and used technology like a sales recruiting platform or AI tool as I mentioned earlier, this shouldn't be a problem.
Offer Job Status Updates
After you've conducted an interview(s), it's extremely important to keep candidates in the loop as you're making your final decision. Ideally, you'll provide real-time updates via email, text, or messenger so candidates instantly know what's happening.
And needless to say, don't drag on your decision-making any longer than necessary.
Optimizing the Passive Candidate Experience with a Streamlined Recruiting Process
Because of their skills, talent, and proven success, passive candidates are often the best candidates. And while effective recruiting is important for filling all positions, it's especially critical when recruiting passive candidates.
By following the formula outlined above, you should be able to create a more streamlined recruiting process that results in a better candidate experience and more A+ passive candidates accepting your job offers.
If you're looking for technology to accurately and efficiently assess sales candidates, check out The Original Sales Assessment. 92% of individuals recommended by it go on to reach the top half of their sales force within one year.