We've talked a lot about passive sales candidates on this blog. And for good reason. Over three-quarters of sales candidates can be classified as passive, and they're often some of the most talented individuals you'll find in your industry. That said, not all are created equal. So how do you find elite passive sales candidates? The best of the best?
In this post, I'll share four of the top resources I recommend that can be potential goldmines for sourcing passive talent to take your sales force to the next level.
1. An Employee Referral Program
For most companies, the best place to start is by establishing an employee referral program because this gives you access to a steady supply of potentially amazing salespeople.
There are two main reasons why this can be a smart move. First, rather than having to constantly seek out elite passive sales candidates yourself, they come to you instead. Second, the overall caliber of talent companies find with an employee referral program tends to be high quality.
For perspective, Forbes states that "referrals are the leading source of superior candidates for 88% of employers," and "referred candidates are a better culture fit than those hired through other sources."
And it makes sense when you think about it. If you already have a team of bright, capable salespeople, odds are they're in contact with other potential salespeople that are equally as talented.
By launching an employee referral program and encouraging existing team members to source other rockstars, there's a great chance you can make some A+ acquisitions.
To learn the basics of how to get one set up, check out this guide from SHRM.
2. LinkedIn
Social media in general can be a great place to source elite passive sales candidates. But, in my opinion, LinkedIn is still number one because 1) it focuses specifically on professional networking and 2) it's a simple, intuitive platform that lets you quickly search for top talent.
Say, for example, you were looking for a SaaS salesperson in the tech industry. You can simply type what you're looking for in the search bar here.

Then, you can browse through LinkedIn's comprehensive results to learn more about each LinkedIn member.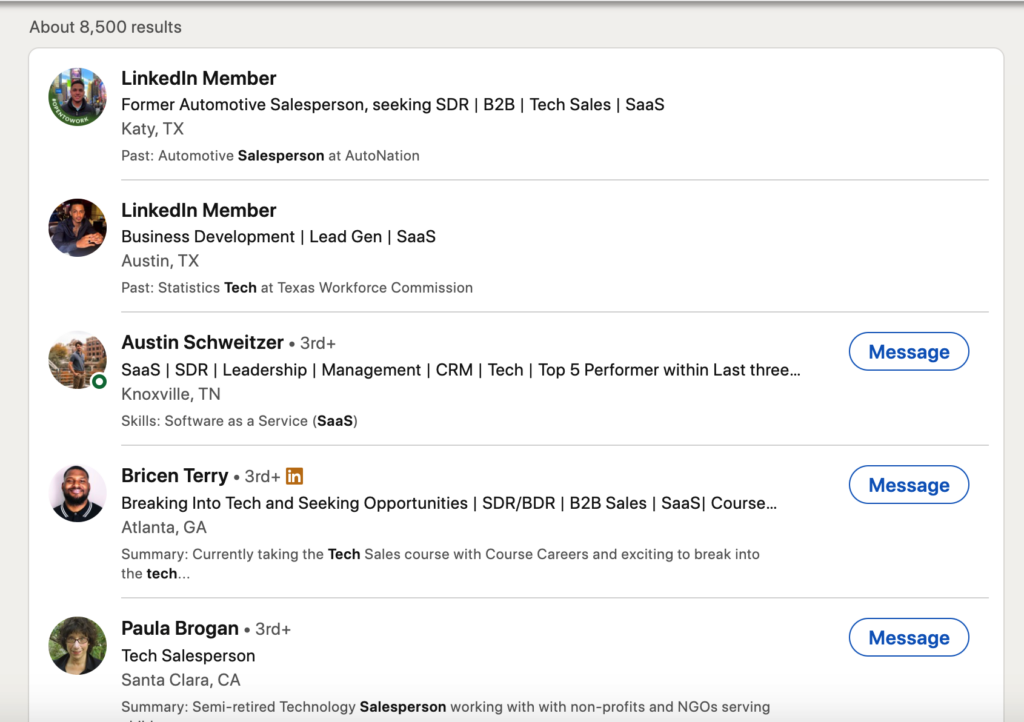 At a glance, you can see what each person specializes in. And some LinkedIn users even openly state that they're looking for job opportunities.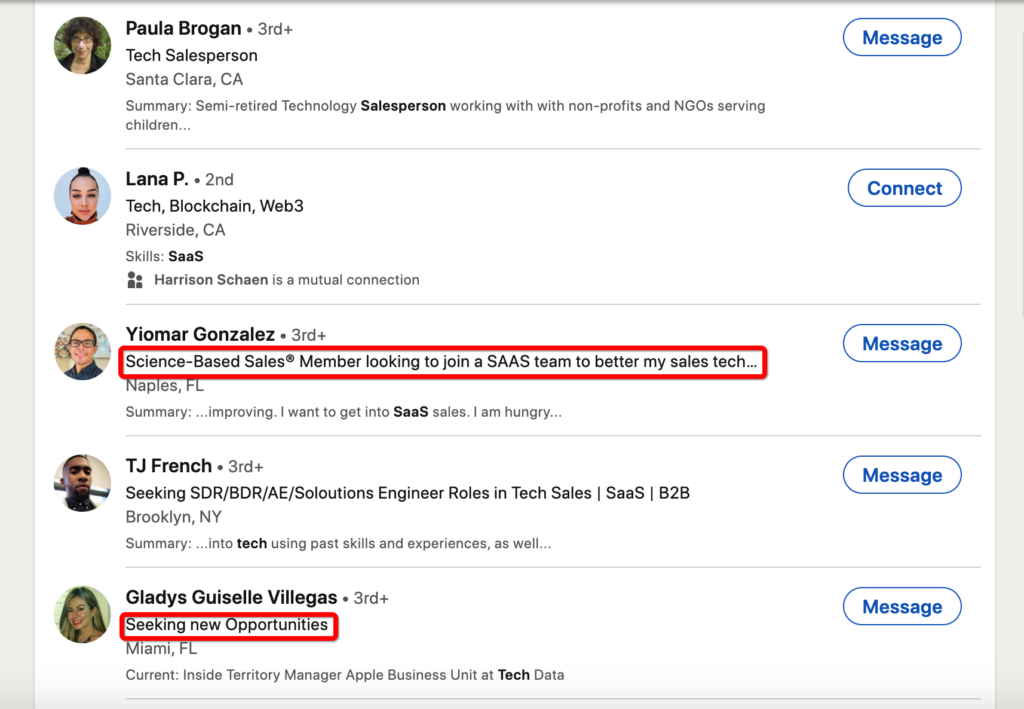 From there, you can learn more about a prospective candidate's experience, qualifications, current job status, and more.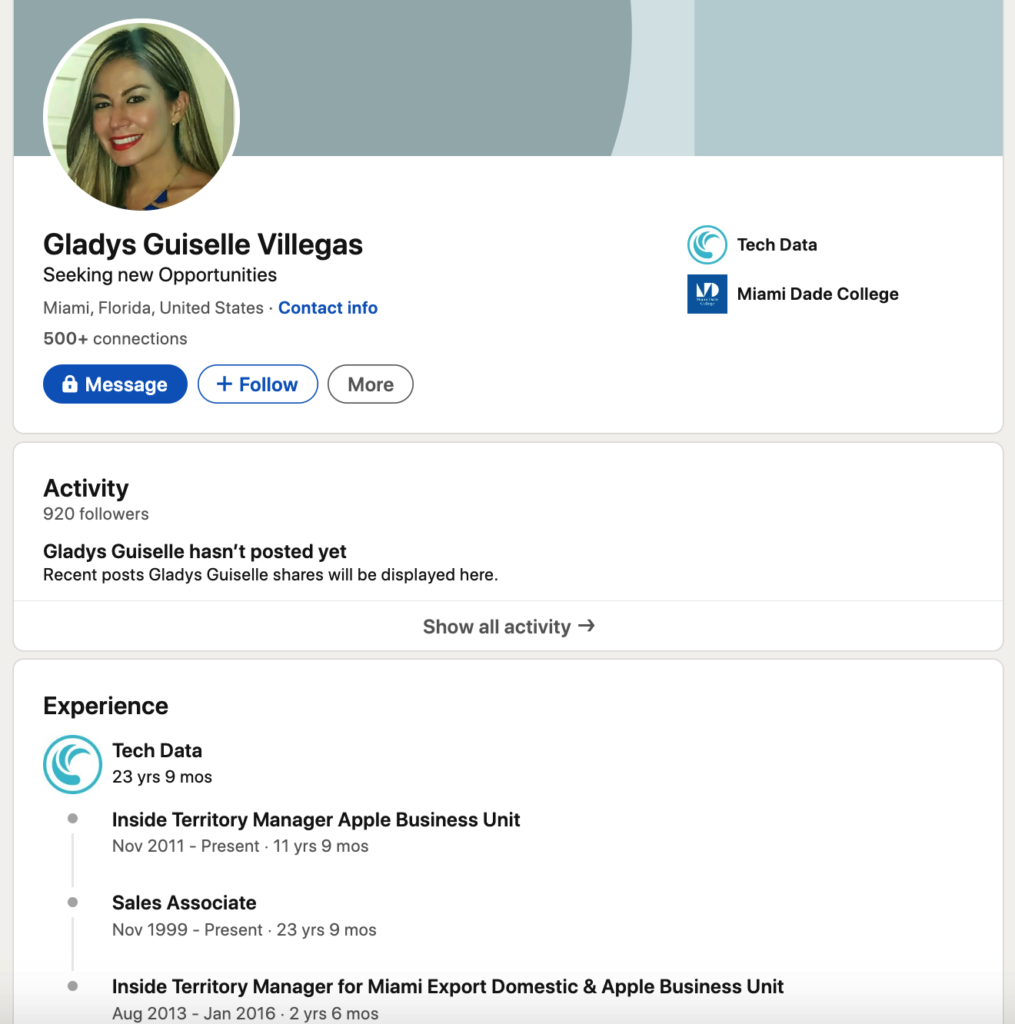 If have LinkedIn Premium, you can instantly message them without having to connect first. Or, if you don't have the premium version, you can connect and then message them.
3. AI Tools
In recent years, AI has spread its tentacles to nearly every aspect of business, and passive recruiting is no exception. Now there are a variety of AI tools that allow you to streamline and automate much of the passive recruiting process.
Not only does this save you valuable time and eliminate a ton of tedious manual tasks, it dramatically increases your odds of landing elite talent. That's because AI can leverage sophisticated technology to match you with highly qualified passive sales candidates with the skills, experience, and personality needed to thrive in your sales team.
There are countless AI tools on the market, but a good example of one that specializes in the outbound recruiting of passive candidates is HireEZ.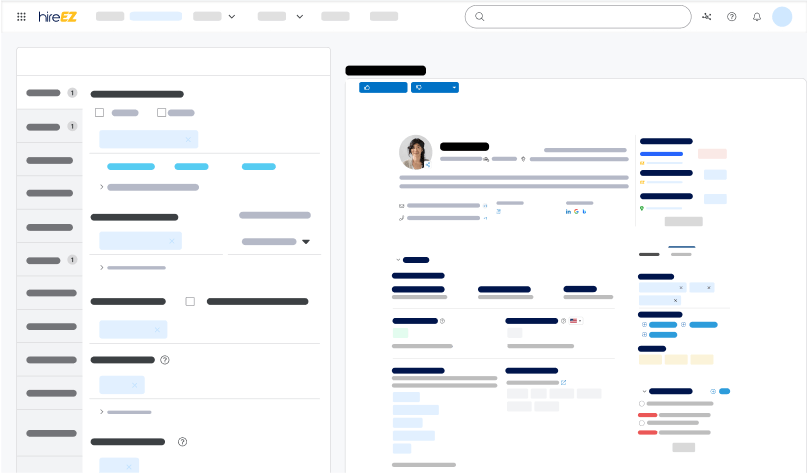 With it, you can search from over 800 million candidate profiles and use over 30 advanced AI filters to pinpoint the exact type of candidates you're looking for. From there, HireEZ helps you engage with the best of the best to facilitate friction-free communication.
And that's just one example. You can find a list of 9 of the best AI tools for sourcing elite passive sales candidates here.
4. Industry Conferences and Local Events
In our modern era, the majority of sales recruiting is done digitally. But it's important to remember that in-person networking is still very much alive and well. And in the right circumstances, it can be the perfect way to meet talented passive sales candidates that could be tremendous assets to your company.
One of the main reasons why I still like in-person networking is that it lets you interact with prospective candidates face-to-face and get a feel for their style and personality. If, for example, someone is particularly charismatic and has a high social IQ, there's a good chance they would thrive on your sales team.
Also, the people you meet at these events often have a strong commitment to sales. After all, why would someone go to the trouble of attending an event if they didn't have a genuine passion?
Besides that, these events allow you to quickly meet a high volume of people so you can make a ton of connections and exchange contact information. So within the course of a few hours, you could potentially have several quality contacts that you can reach out to later.
When it comes to finding events, a quick Google search of "[your industry] conferences" should turn up plenty of information.
Besides that, websites such as Meetup.com, Eventbrite, and CitySocializer can help you find local events. Note that many of the events on these sites aren't specifically sales-centric, but events in general, which can nonetheless help you connect with talented individuals.
Building a Successful Team with Elite Passive Sales Candidates
With more than 75% of sales candidates being passive and these candidates often being some of the most qualified, it's important to have a passive recruiting strategy in place. And this starts with tapping into the right resources for finding passive sales candidates.
While there are numerous resources you can leverage, these four are my absolute favorites and should allow you to cast a wide net for finding the cream of the crop.
If you're looking to build an all-star team, be sure to register with HireDNA today. We offer cutting-edge technology that helps sales companies attract, recruit, and retain the best talent.