Choosing your first sales leader is exciting, but it can also be a little nerve-racking. With so much riding on their success, it's a critical position you want to find the ideal candidate for.
In this post, I'll explain how to handle the process strategically and provide helpful tools to dramatically increase your chances of choosing the right sales leader.
Identify Critical Traits
Before you do anything, it's important to figure out exactly what you're looking for in your first sales leader, as this will impact your job ads, interview questions, and more. While what is considered ideal traits will vary from company to company, there are nine attributes to look for across the board, including trustworthiness, being a natural motivator, and being an excellent communicator.
This graphic is a great starting point for coming up with your list.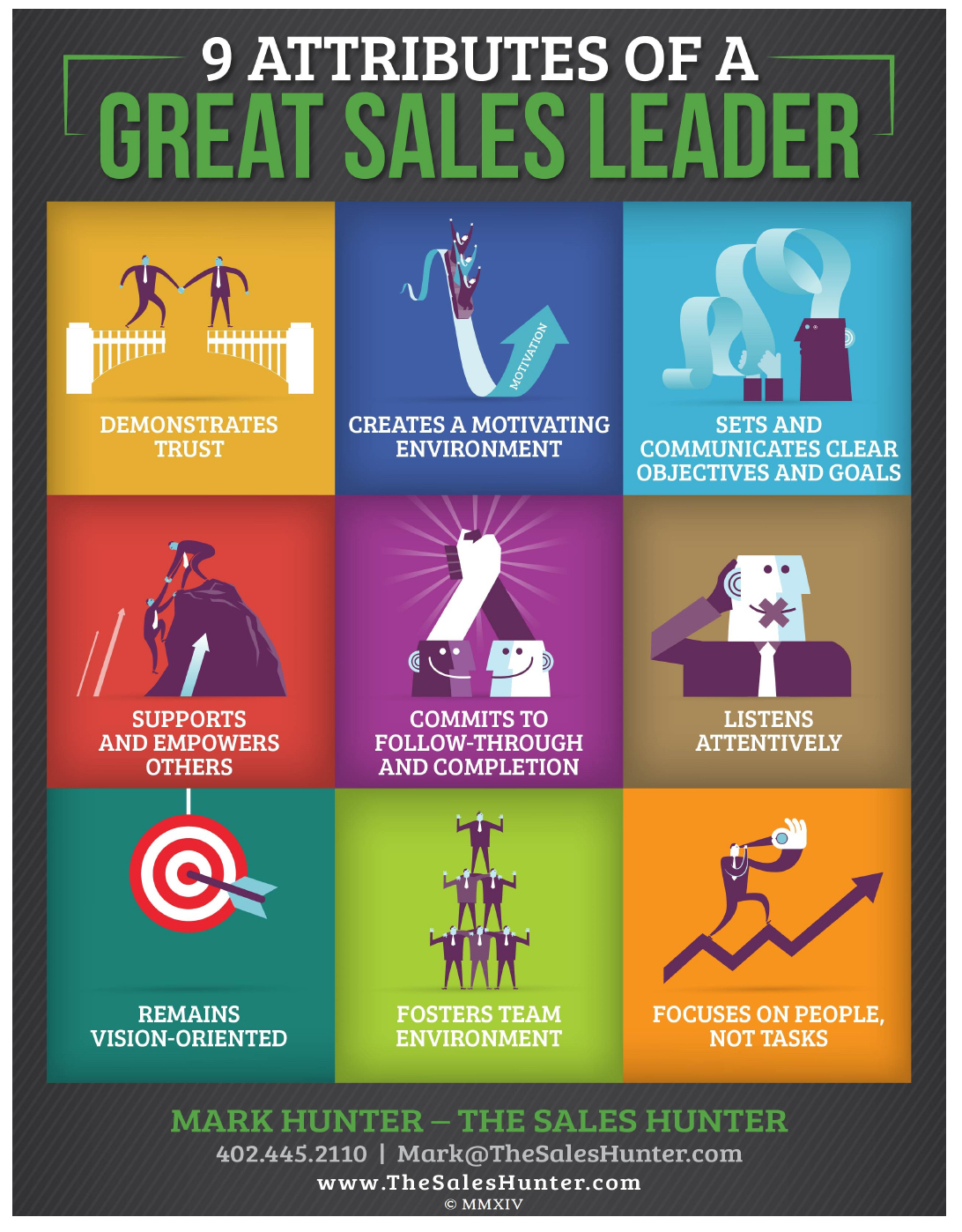 Keep in mind that you'll also want to consider cultural fit and what type of personality will mesh the best with your existing sales team. Once you've got a tangible list of traits ironed out, the rest of the hiring process should be a lot easier. This brings us to the next step in the process.
Create an Ideal Candidate Profile
Based on the information you've generated from identifying critical traits (which you can think of as a rough draft), use it to create a fully fleshed-out ideal candidate profile. The more detailed the better, as it will provide a clear template to draw from when later assessing sales leader candidates for a position.
Along with the attributes I discussed earlier, some elements to include in your ideal candidate profile can include:
Education
Selling and leadership experience
Industry experience
Candidate demographic
Location
Hard skills
Soft Skills
One thing I'd like to point out here is that some sales recruiters get too hung up on looking for candidates with industry experience that they miss out on potentially A+ talent. I've found that, in many cases, candidates with proven sales and leadership abilities can make for excellent hires even if they don't necessarily have direct industry experience. My philosophy is that it's easier to train on products than it is on sales and leadership.
So this is something to keep in mind if you find a candidate who looks promising but lacks direct industry experience. Check out this article for more info.
Build Your Talent Pipeline
Now that you have a clear idea of the type of candidate you want to be your first sales leader, it's time to build a talent pipeline to help you procure a true rockstar. There are several ways to go about this, including:
Recruitment marketing on job boards
Paid advertising on search engines and social media
Recruiting internally
Getting referrals from current employees
Email newsletters
Engaging passive candidates
Like any other aspect of sales recruiting, building a talent pipeline will likely require trial and error until you find the right formula. A great way to streamline this part of recruiting is to use a platform like HireDNA.
HireDNA used powerful technology that identifies and engages both active and passive candidates that match your ideal candidate profile, allowing you to cast the widest possible net with maximum efficiency. With it, you can tap into a national network of experienced sales recruiters to quickly fill your pipeline.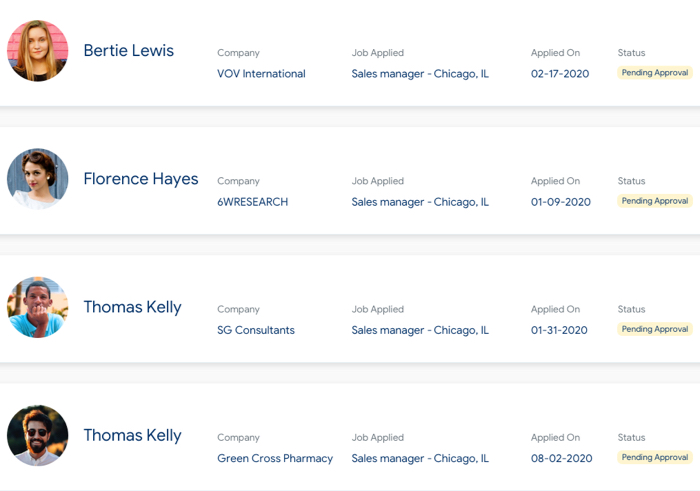 So if you're struggling in this area, using a platform like HireDNA can be a huge help.
Screen and Assess Candidates
At this point, you should know the critical traits you're looking for in a sales leader, have developed an ideal candidate profile, and have a talent pipeline in place. And that's half the battle. Now, it's time to screen candidates and evaluate them based on your specific criteria to find the right fit for your unique selling environment.
Given how overwhelming this phase can be, I usually suggest using technology to streamline it to A) save time and B) increase your odds of success. One way to go about this is by using an applicant tracking system (ATS) to filter through candidates and organize them so you can narrow your talent pool down to the best of the best. G2 has a great resource that covers some of the top applicant tracking systems.
Another way is to use HireDNA to screen and assess candidates using data and science to better predict the likelihood of success. This looks at numerous core competencies like motivation and desire to determine the top candidates for a sales leadership role to ensure you're never "going on a hunch," but rather making assessments based on concrete data.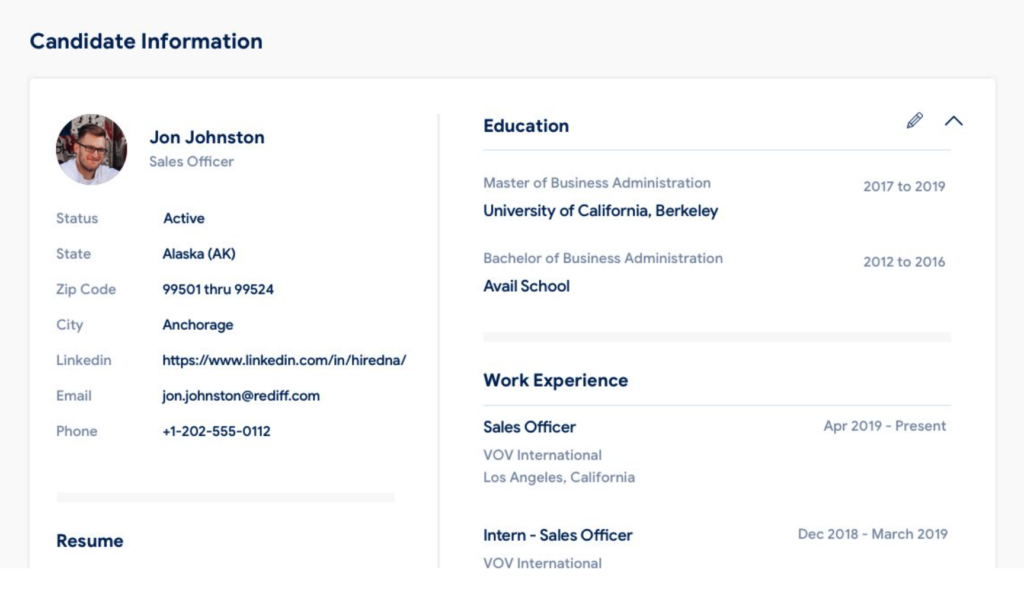 To save even more time, HireDNA delivers qualified candidates right to your inbox for maximum convenience.
Interview and Hire
From this point, the heavy lifting is done. Now it's just a matter of shortlisting the cream of the crop and interviewing the candidates that check the right boxes.
Note that interviewing for your first sales leader position will likely look a little different than if you were interviewing for a regular sales rep position and will be more extensive. Venture capital firm Stage 2 Capital suggests conducting two interviews, with the first being with your CEO/founder and marketing leader.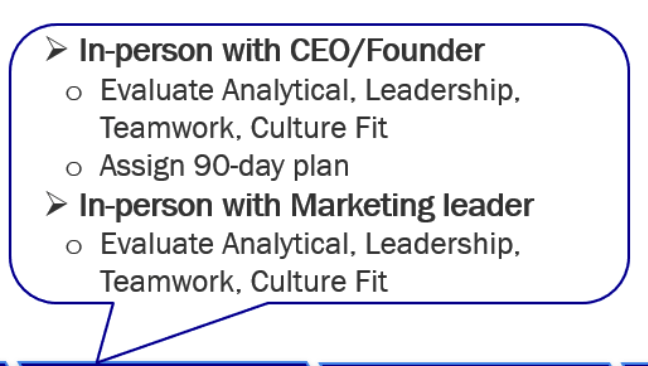 Then, if they pass their first round, the second interview will be a group meeting with your sales team and executive team and another with your CEO/founder.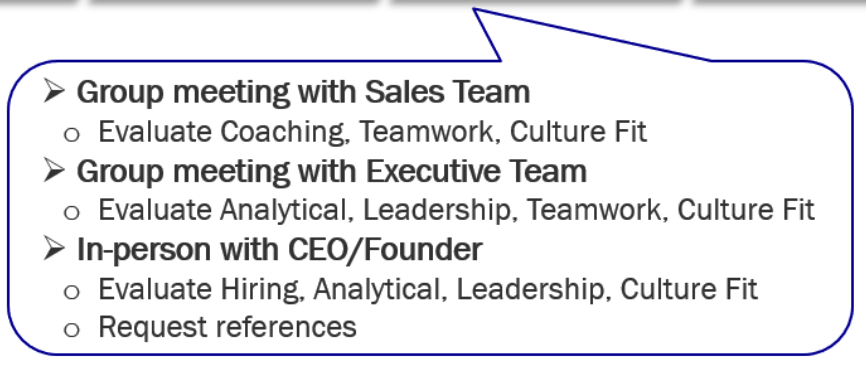 This, of course, may not be the exact formula you want to take, but I think this is a good template to borrow from. And you can always refine your strategy later on when you hire again.
Finding the Perfect First Sales Leader
A sales leader is a pivotal position, and whoever you hire will have a ripple effect throughout the rest of your company. So you want to get it right. By taking a strategic approach as I've outlined above, you can methodically move through the process to ensure a strong candidate pool and narrow it down until you have a winner.
To learn more about how HireDNA can help you find sales leaders and schedule a live demo, reach out to us today.