Searching for a sales job can be overwhelming and stressful. In fact, 73% of job seekers say it's "one of the most stressful events in life." As a recruiter, it's important to simplify and streamline things to 1) improve the candidate experience and 2) increase your odds of acquiring A+ salespeople while building strong relationships right off the bat. And this often starts with creating a clear hiring process timeline.
In this post, we'll look at some compelling data that shows just how important a hiring process timeline is, along with specific elements to focus on.
Putting Yourself in a Sale's Candidates Shoes
Nearly everyone will perform a job search at some point in their career. And nearly everyone will experience the struggles that come along with it.
Searching for a new sales position marks a big life change. A person may need to give notice to their current company, figure out how to transition from their current job to a new one, switch up their daily schedule, or even move to a new city. Not to mention the potential financial strains it can create.
With this comes a lot of uncertainty and stress if a sales candidate is left in the dark about what's happening with a potential employer. This is bad for everyone because, on their end, it hurts the candidate's experience. And on your end, the friction it creates can sour what could have been a solid relationship.
Even if a sales candidate was initially excited about the idea of joining your team, they may end up going elsewhere simply because they weren't sure about their status. In turn, quality candidates can end up slipping through your fingers, and in the long run, this can even hurt your brand equity if you get negative online reviews from resentful ex-candidates.
Looking it at like this, lacking a clear hiring process timeline is bad all around. However, when sales candidates know what to expect, it can create positive rapport and make things smoother for both parties.
What the Data Says
Now the question is, just how big of an impact can a clear hiring process timeline have?
According to SmallBizGenius, "83% of candidates say it would greatly improve the overall experience if employers provided a clear timeline of the hiring process." Based on this data, you could create a pleasant experience for more than 8 out of 10 candidates by simply making the process more transparent.
In a world where many companies are struggling to create a positive candidate experience and 58% of job seekers say they've declined an offer because of a negative experience, this an extremely important stat to take note of.
To crystallize things further, here's some additional data:
"52% of job seekers cite lack of response from employers as their biggest frustration
75% of applicants never hear back from employers
81% of job seekers say employers continuously communicating status updates would greatly improve their candidate experience"
At this point, it's clear that the vast majority of sales candidates want more transparency from employers and that offering it can have significant results. But how exactly do you go about that?
Elements to Include in the Hiring Process Timeline
For starters, you'll want to give sales candidates at least a rough idea of how long your hiring process is. While the specific stages of recruiting can vary, the seven fundamental stages usually look something like this.
So, for instance, when a sales candidate submits their application, you could send them an email outlining what to expect, what the next step is, and when they'll hear from you next. Keep in mind you don't necessarily need to include exact dates, but try to give them a basic overview of what your timeline looks like so you're on the same page.
For candidates that make it to the interview stage, you'll want to be more detailed with the upcoming phases in the process. This can include how many rounds of interviews there will be (e.g. an initial 15-minute Zoom call and a longer follow-up call if they pass), what will happen during each round, and how long it will take your recruitment team to make their decision.
This alone can make for a far better candidate experience and should help you avoid many of the common "friction points" that are detrimental to the process.
When it comes to sales candidates that have been disqualified, you'll want to let them know as soon as possible that you've decided to move on. While this, understandably, can be difficult and no one wants to be the bearer of bad news, you never want to leave someone hanging when they're no longer in the candidate pool. In this situation, you'll want to thank them for applying and let them know that you sincerely appreciate their interest in your company, but you've decided to go with someone else who is a better fit.
If you're not sure how to approach this, here's a basic email template you can use.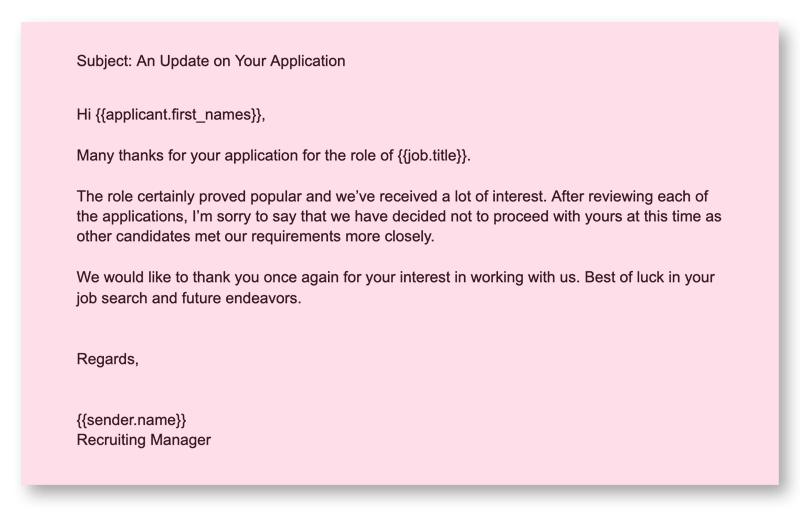 Also, note that most experts suggest never going longer than a maximum of one week to follow up at any point in the hiring process.
Wrapping Up
A poor sales candidate experience can be toxic to everyone involved. It leaves a sour taste in the mouth of what could be a rockstar salesperson. And it can hurt your company if you lose out on top-tier talent to competitors. Fortunately, this is often avoidable by creating a transparent hiring process timeline.
Doing so puts you on the same page with sales candidates and drastically reduces the likelihood of friction arising, as they'll know what to expect every step of the way. From putting in their application to scheduling an interview to making your final decision, you'll have close communication throughout.
If you're looking to fill your pipeline with leading sales talent while cutting your hire time in half, check out HireDNA. Recruiters that use it eliminate, on average, 96% of mistakes and lower turnover by more than 33%.