Churn is an inevitable part of running a SaaS company. No matter how great your product is, how streamlined your onboarding, and how quality your customer service, a certain percentage of customers will inevitably leave. That said, churn is definitely something to keep in check, especially when you consider that US businesses lose around $1.6 trillion annually because of it. On that note, here are some of the most helpful SaaS retention strategies to keep churn as low as possible.
Start By Perfecting Your SaaS Onboarding
The exact percentage will vary depending on who you ask, but in most cases, poor onboarding is the number one reason for churn. In fact, a recent study found that poor onboarding accounts for nearly 23% of all churn.
For that reason, I suggest making SaaS onboarding a top priority and continually striving to make it as seamless as possible. After all, the quality (or lack thereof) of the onboarding experience will make a lasting impression on each new customer. So you want to make sure you're getting them up-to-speed quickly and not creating unnecessary friction.
To learn the fundamentals of quality SaaS onboarding, I recommend reading this post from HubSpot and following this checklist.
Be Committed to Ongoing Product Improvement
According to the same study, the second biggest reason for churn is an underperforming product, with just under 20% of customers leaving because of this.
And this shouldn't come as a shock. Obviously, if a customer is underwhelmed with a SaaS product, they probably won't stick around for long.
That's why it's so important to take an endlessly iterative approach to product development and improvement. In fact, if you look at the most successful companies, nearly all are constantly looking to identify flaws, fix issues, and make adjustments to help their product reach its full potential.
In other words, don't treat building your SaaS product as a one-off type of deal. Instead, be committed to ongoing product improvement.
Be Committed to Building Long-Term Relationships
Third on the list of top reasons for churn is ineffective relationship building, with over 15% of customers leaving because of this.
Just like poor onboarding and an underperforming product, ineffective relationship building is a fundamental element of the customer experience. And when it's neglected, you're likely to see a higher churn rate than you'd like.
So how exactly can you build stronger relationships with your SaaS customers? Here are some ideas.
Maintain regular communication
Make it simple to reach customer service through a variety of mediums (website, email, social, etc.)
Give customers updates on product improvements, new features, and upcoming releases
Ask for their feedback and ways you could improve the product and enhance the overall customer experience
Offer discounts and other perks to loyal customers
Practice Proactive Customer Service
Reactive customer service is when you wait for customers to come to you with their problems and questions. Proactive customer service, on the other hand, is when you anticipate problems and questions and actively engage customers to not only ensure there are no deal-breaking issues but that they're highly satisfied.
Here's a side-by-side comparison of proactive versus reactive customer service.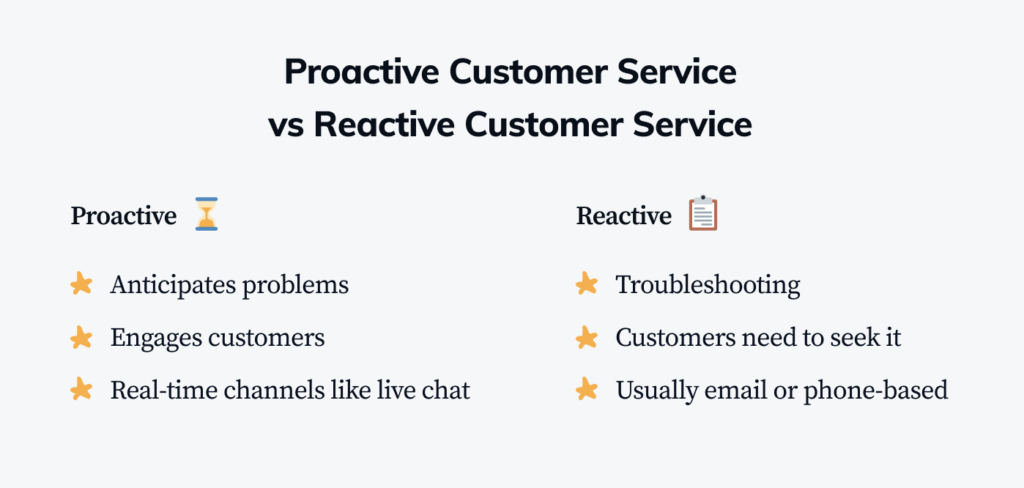 Put yourself in the shoes of a SaaS customer for a second. Which type of customer service would you prefer?
It's a no-brainer. In nearly every situation, customers will always opt for proactive customer service because it makes their lives easier, and they can get the absolute most from their investment.
That's why I strongly suggest taking this approach if you're not already. You can learn more about this topic in this guide from customer service software brand Tidio.
Offer Incentives for Customers to Hang Around
Getting customers to convert initially isn't easy. But getting them to hang around for the long haul, especially when you've got competitors nipping at your heels is a whole other matter. One of the best SaaS retention strategies to fix this problem is to offer your loyal customers incentives to stick with you.
I like what Carly Stec of HubSpot has to say about this.
"Give customers a reason to stick around by offering them something special like a promo, discount, or loyalty program. This small effort can go a long way when it comes to showing your existing customers how much you value their business."
If someone is happy with your SaaS product, they'll be even happier. And if they were on the fence and potentially considering taking their business elsewhere, this can be just what you need to make them reconsider and remain a customer.
Figure Out Why Churn Happens
Finally, it's incredibly important to understand what's contributing to your churn because this will help you take the appropriate steps to lower it. Earlier, I mentioned that poor onboarding, poor product performance, and ineffective relationship building were the top three causes of SaaS churn across the board. But, of course, every situation is different, so you'll want to know precisely what issues are the biggest contributors for your company.
A great starting point is to use exit surveys when customers leave, as this should provide you with a basic overview of the core causes. However, admittedly, only a certain percentage of customers will fill these out, and it won't necessarily show the whole picture.
That's where a retention analytics platform comes in. This is specifically designed to quantifiably measure churn to see why customers leave and what's causing it. Further, this can also help you measure customer engagement so you can determine the behaviors that are leading to success.
There are numerous products on the market, but one of my personal favorites is Woopra which primarily focuses on the SaaS industry. For example, you can use it to determine how many users return after using a core product feature…

…or what your product retention is for mobile users.

Keeping More Customers with Winning SaaS Retention Strategies
It's hard to stress enough the importance of minimizing churn. After all, it doesn't matter how many new customers you gain if you can't retain them. By using the right SaaS retention strategies, you should be able to tame your churn rate and build the foundation for a long-lasting brand.
If you're looking to find A+ sales talent to propel your company, see how HireDNA can help.